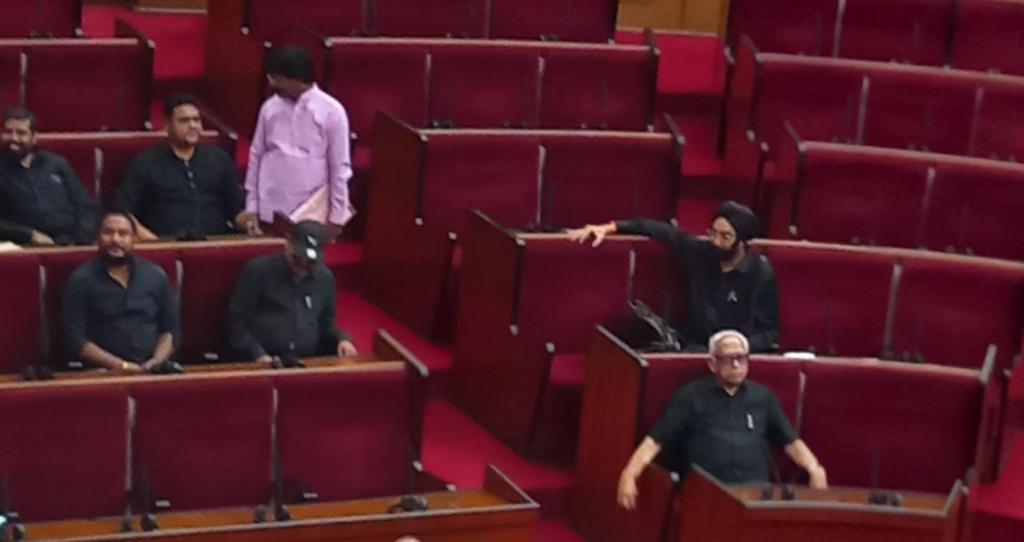 Bhubaneswar: Protesting disqualification of senior Congress leader Rahul Gandhi from Lok Sabha, State Congress MLAs attended State Assembly wearing black dresses and created a ruckus in the House over the issue.
Speaker BK Arukha adjourned the House till 4 PM without transiting any business in the pre-lunch session.
As soon as the House assembled for the Question Hour at 10.30 AM, the Congress members trooped into the well of the Assembly raising anti-Modi slogans.
Speaker Bikram Keshari Arukha appealed to the Congress legislators to go back to their seats as there is discussion on important departments like finance, home, mines.
However, the opposition Congress members continue their protest raising slogan, "Narendra Modi hai hai…… Narendra Modi down down…… Narendra Modi murdabad…." In such a chaotic scenario, the Speaker adjourned the House till 4 p.m.
The House had on March 24 witnessed several adjournments as Congress legislators protested against Rahul Gandhi's disqualification from the Lok Sabha.
"We observe the day as black day for our democracy. So, we all are wearing black clothes. They (BJP government) have murdered democracy. If democracy will survive, the country will survive," senior Congress MLA Taraprasad Bahinipati told reporters outside the Assembly.
Odisha Pradesh Congress Committee (OPCC) president Sarat Pattanayak said, "To protect democracy, we are continuing our protest inside and outside the Assembly. Rahul Gandhi's voice was surpassed and he was not allowed to speak in the Lok Sabha and later disqualified. The people of this country will decide whether an attempt was made to murder the democracy or not?"
While many Chief Ministers have expressed their views for the protection of democracy, here Odisha CM is not making any statement in fear of CBI and ED probe into chitfund and mining scams, he alleged.
A delegation of representatives from various political parties will meet Governor Ganeshi Lal this afternoon and submit a memorandum to him, informed the OPCC president.
Reacting to the protest by Congress members, Leader of Opposition Jayanarayan Mishra (BJP) said, "Those who have put all behind the bars during the emergency period are advocating for democracy today. Which kind of democracy are they talking about? Whatever decision was taken, it is as per the law, which was enacted by the then Congress government in 1951."
Surprise is that, the House was directly adjourned till 4 p.m., he said, adding, "If any disturbance occurs during question hour, only the question hour should have been suspended. But, the zero hour and adjournment motion discussion were also not taken up for the adjournment."
Notably, Rahul Gandhi, representing Wayanad parliamentary constituency in Kerala, was on March 24 disqualified from the Lok Sabha, a day after his conviction in a defamation case by a court in Surat in Gujarat.