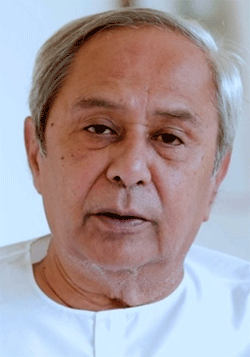 Bhubaneswar: Once again, Chief Minister Naveen Patnaik has urged the Government of India to evacuate 20 lakh matric ton (LMT) of surplus rice from Odisha.
Chief Minister Shri Patnaik has written a letter to Union Minister for Consumer Affairs, Food and Public Distribution, Piyush Goyal, in this regard.  
In his letter, Shri Patnaik said Odisha has adopted the decentralized procurement (DCP) system from the Kharif Marketing Season (KMS) 2003-04. Since then, the State has been undertaking MSP operations for procurement of paddy in decentralized mode. The decentralized procurement has improved the outreach of MSP support to paddy growers, he said.
During this Kharif season, a record 14,94,320 number of farmers have sold paddy to the Government at MSP. The rice milled from the paddy so procured is being used under the National Food Security Act (NFSA) and other welfare schemes of the Government and the surplus rice is being delivered to the Food Corporation of India (FCI), Shri Patnaik said.
The CM said paddy procurement for Kharif season (KMS 2022-23) is going to be closed by March 31, 2023 and about 65.23 LMT of paddy equivalent to 44.23 LMT Kharif rice has been procured as on March 22, 2023 and MSP dues of about Rs.13,081 crore have been transferred to the bank account of the farmers within 42 to 48 hours of purchase of paddy.
The State has expected that about 10 lakh MT of rice will be procured in the State during the ensuing Rabi (KMS 2022-23) season. Thus, total 54 lakh MT of rice is likely to be procured during the entire 2022-23, he pointed out.
Odisha's own consumption will be 24 lakh MT of rice under NFSA, State Food Security Scheme (SFSS) and other welfare schemes.
The Department of Food and Public Distribution, Government of India has set a target to procure 10.33 LMT (4 LMT in 1st phase & 6.33 in 2nd phase) of fortified parboiled rice for acceptance by FCI during KMS 2022-23 (Kharif) for the State of Odisha. So, the State will be left with approximately 20 lakh MT of surplus rice, Shri Patnaik informed Shri Goyal.
"Non-evacuation of above quantity of surplus rice from the State will severely affect the State's paddy procurement operations in the coming seasons as well as it will adversely impact the livelihood of lakhs of farmers of the State whose main source of earning is through MSP operations of paddy procurement," Shri Patnaik wrote.
He, therefore, sought the personal intervention of the Union Minister for issuing a direction to accept additional 20 lakh MT of surplus rice (17 lakh MT fortified parboiled rice and 03 lakh MT fortified raw rice) for the KMS 2022-23 for the interest of Odisha farmers.