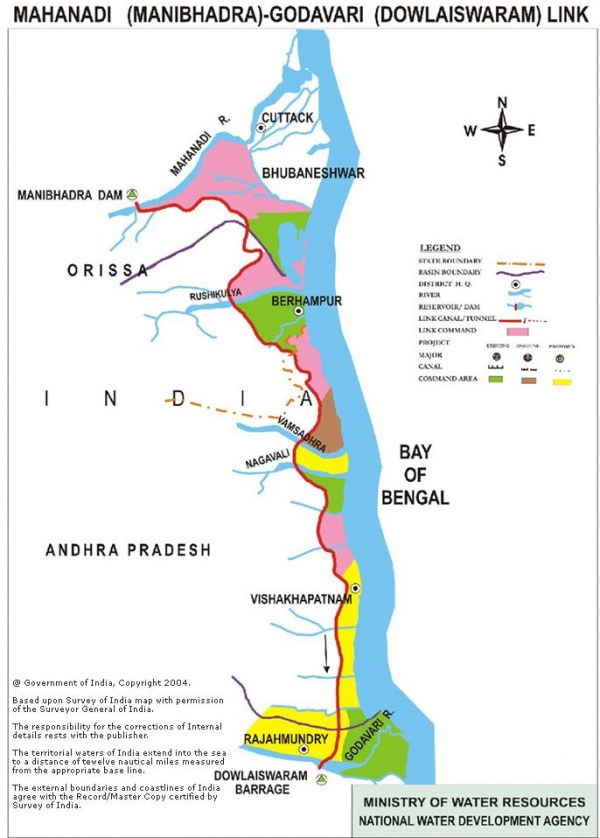 Bhubaneswar: While Government of India is going ahead in its endeavor to Inter Link the rivers, the Feasibility Report of River Mahanadi and Godavari Interlinking is completed,
Similarly, Feasibility Report of River Subarnarekha and Mahanadi is also complete, said sources in Ministry of Jal Shakti.
River Subarnarekha and Damodar link with Ganga Feasibility Report is also completed, officials admit.
Under the National Perspective Plan (NPP), the National Water Development Agency (NWDA) has prepared the Feasibility Reports and Detailed Project Reports (DPR)s of various rivers across the country.
NWDA has identified 30 Links out of which 16 under Peninsular and 14 of Himalayan Component.
Odisha is one of the concerned states so far Inter Linking of Rivers are concerned and Rivers like Mahanadi, Subarnarekha will be interlinked with Godavari and Ganga.
While Mahanadi at Manibhadra, Bermul and Godavari as Dowlaiswaram will be connected as per Feasibility Report, said sources.
States like Odisha, Jharkhand, Madhya Pradesh, Chhattisgarh, Telengana, Andhra Pradesh, Karnataka and Maharashtra are involved in this Inter Linking.
Similarly Ganga at Farakka-Damodar-Subarnarekha will be interlinked for which Feasibility Report has been completed.
States like Odisha, West Bengal, and Jharkhand will be involved in Farakka-Damodar-Subarnarekha Inter Linking, said sources.
A Special Committee on Interlinking of Rivers has been constituted and a Task Force is in place for the purpose, said an official.
After Feasibility Report is completed, Detailed Project Report will be prepared for the purpose.
After DPR is prepared it will be forwarded to the States, concerned for consideration and efforts will be taken up for building consensus amongst them for water sharing, said a senior official.
Government of India has already approved implementation of Ken-Betwa Link Project (KBLP) with an estimated cost of Rs.44,605 Crore, which includes Central Support of Rs.39,317 Crore.
KBLP link will benefit Uttar Pradesh and Madhya Pradesh and will provide an annual irrigation to 10.62 Lakh Hectares as well as enroute provide drinking water facilities. More than 100 Mega Watt power production will be facilitated, said sources.