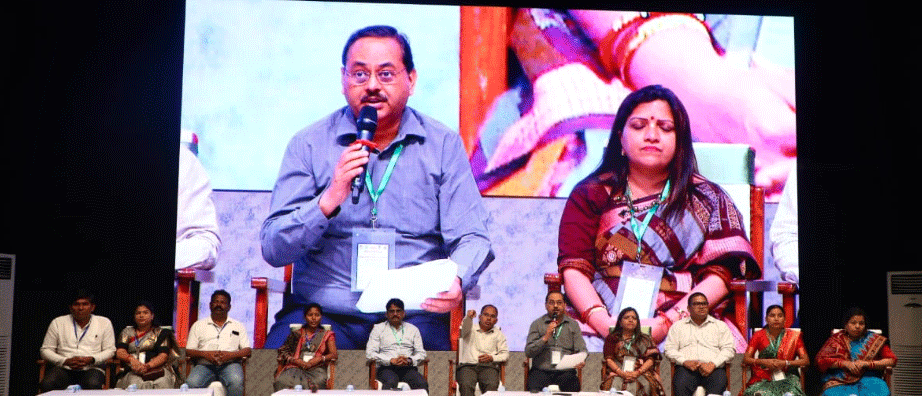 Bhubaneswar: Chandrasekhar Kumar, Additional Secretary, Ministry of Panchayati Raj, Government of India kick started the proceedings of the day two of the 3-day National Workshop on "Localization of Sustainable Development Goals (LSDGs) in Gram Panchayats through Adopting Thematic Approaches" being held here.
He appealed the States and PRI members present in the workshop to carry out the documentation of the best practices from the grasroot level for the felicitation award at the national award and briefed about Mission LIFE i.e Lifestyle for Environment.
Sushil Kumar Lohani, Principal Secretary, Panchayati Raj and Drinking Water Department, Government Odisha has chaired the third panel discussion on  "Child & Women friendly Panchayat- Best Practices from the State of Odisha" along with the Directors of the Department.
The Sarpanches of GP's   like Jambu GP of Kendrapada, Bhimtali GP of Mayurbhannj ,Olonga GP of Bhadrak, Kotagara of Dhenkanal ,Kashipada GP of Balasore and Biruda GP of Nayagarh district of Odisha who have done exemplary work on Child & Women Friendly Panchayat were also co-panelled discussion and their works showcased through Video films. The participants from the other States have also asked various questions on the best practices from Sarpanches present at the dais. And they have also shared their experiences while implementing the schemes at the grassroot level.
The fourth panel discussion was on Child & Women Participation led local Governance: Mainstreaming Child Friendly Panchayat was chaired by M N Roy, Former Additional Chief Secretary, Government of West Bengal followed by fifth panel discussion on "Way Forward" chaired by Vijayanand, Former Secretary, Ministry of Panchayati Raj, Government of India.
The concluding session ended with end note address by Shri Lohani, Principal Secretary, PR&DW Dept, Government of Odisha, summed up by Dr. Kumar, Additional Secretary, MoPR and vote of thanks was given by Surendra Kumar Meena, Director, SIRD&PR.
On the third day of this workshop, the delegate team of all States and UTs will have an exposure field visit "Learning by Doing: Experience Sharing and Learning from the fields" to several blocks of Puri District. The delegate team will also have a heritage tour to Puri and Konark.  A separate field visit to other districts of Odisha including Ganjam, Jajpur, Cuttack, Dhenkanal and Khordha is scheduled to be held for the participants from inside Odisha wherein, they will have a learning experience on flagship programmes and best development practices implemented by the State of Odisha.