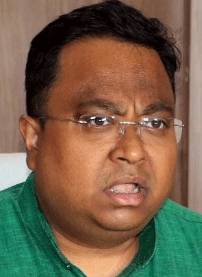 Bhubaneswar: The Governing Biju Janata Dal (BJD) on Saturday sought reply from Odisha BJP President Samir Mohanty on allegations made by senior BJP Lawmaker and Leader of Opposition Jaynarayan Mishra.
Shri Mishra, while speaking to media persons today, said leaders before him were managed by the ruling Party and he could not be similarly managed; therefore, the ruling Party is after him.
Armed with this statement of Shri Mishra, BJD MP Sasmit Patra said, "It is extremely unfortunate that Shri Mishra has cast serious allegations against former Leader of Opposition and BJP MLA Pradipta Naik who is recovering from a health condition, that he was being managed as he was the LoP before Shri Mishra."
It is also extremely sad and unfortunate that he is alleging that former Deputy Leader of Opposition and former BJP MLA Late Bishnu Charan Sethi who was also a leader before him was being managed, Dr Patra said.
The BJD leader further said that Shri Mishra is also alleged that BJP Chief Whip Mohan Majhi is being managed since he is also a BJP leader in constitutional position in the Vidhan Sabha before Shri Mishra appointed as the LoP.
Odisha BJP President Samir Mohanty, who was attacked by chappal by Shri Mishra in the past should speak up and reply on behalf of the BJP MLAs and the former BJP Leader and Deputy Leader of Opposition and present BJP Chief Whip, Dr. Patra demanded.
"Shri Mohanty should now act against this hardened criminal and murderer Shri Mishra who had him beaten up and has now started attacking his own party leaders as well," added Dr. Patra.
Speaking to media persons earlier in the day, Shri Mishra dared the government to handover the Naba Das murder case to CBI.
"If the state government is so clean, why are they fearing a CBI investigation in the murder case?," asked Shri Mishra.
The state government's claim that it is a court-monitored probe is also completely false, he said.
The Leader of Opposition has alleged that the ruling BJD leaders are in tension and worry as their all plans to suppress the murder case have failed. "Their attempts to manage me also failed. For which, they are making personal attacks on me," he further alleged.
Shri Mishra informed that he will raise this issue in the Assembly during the upcoming budget session.