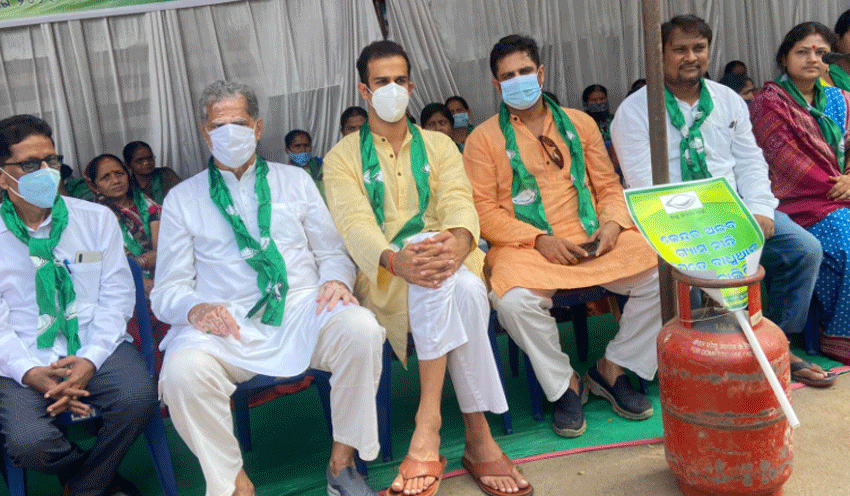 Balangir: Continuing its fight against the NDA Government, Governing Biju Janata Dal (BJD) on Monday launched dharna cum demonstration against price hike in LPG gas cylinders in Balangir District.
The BJD activists also demonstrated before all Block offices under the jurisdiction of the District.
BJD Veteran Anang Uday Singh Deo led the protest, in which leaders and activists of BJD and all its frontal organizations, Biju Mahila Janata Dal, Biju Yuva Janata Dal and Biju Chhatra Janata Dal participated in protest against fuel rise.
Former Balangir MP Kalikesh Singh Deo, Popular Youth Leader Arkesh Narayan Singh Deo and others participated in the demonstration.
The biggest problem women are facing today is LPG price hike. Despite several protests and requests, the Centre is not reducing the price, which made the life of common man miserable, said former Minister and Senior Vice President of BJD, Mr.Singh Deo.
"The Modi Government had launched Ujjwala Yojana and claimed that the Centre is concerned about housewives and women. But those assurances were false as he (PM Modi) has failed to regulate the price of cooking gas which is affecting each and every woman," said a Lady BJD activist.
The demonstrators shouted slogans against the Union Government for its failure in checking the high price of the LPG gas and threatened that the party would intensify the agitation across the State till the Center reduced the price.
The price of LPG has gone up by 123 per cent in the last three years. A LPG cylinder now costs around Rs 950.
The party staged protest demonstration before the RDC office in Sambalpur and all the block offices under its zone today while similar protests and dharna will be organized on November 24 before the RDC office at Berhampur and also all the block offices under its jurisdiction
The Biju Mahila Janata Dal had earlier on November 1 last resorted to protest demonstrations in all the 147 assembly constituencies against the hike in the prices of petrol, diesel and cooking gas.
The youth wing and student wing of the ruling party had also organized demonstrations and dharna in front of the petrol pumps for two days on November 6 and 7 against the hike in the prices of petrol and diesel.