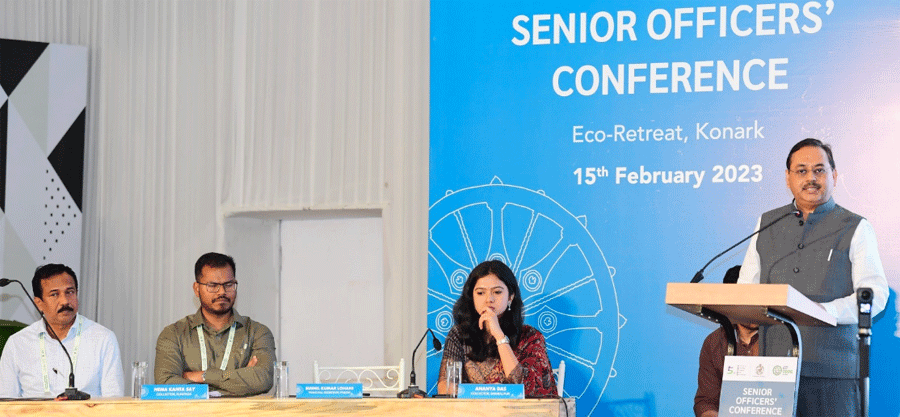 Konark: District Collectors were sensitized on the massive plan of the Odisha Government in providing tap connections to each rural household with a budget outlay of Rs 57,000 crores.
Sushil Kumar Lohani, Principal Secretary Panchayatiraj and Drinking Water briefed the Senior Officers Conference held here on 15 February.
He said water deficient and water quality affected areas have been covered with Mega projects transporting water over long distances to provide potable water.
Remote and interior villages are covered with Solar projects for robust functioning of the schemes. Collectors were instructed to expedite land clearances and monitor the progress on monthly basis for early coverage. Strengthening the Village Water and Sanitation Committees for effective running of operational schemes and judicious use of water was emphasized by Shri Lohani.
He said that this year, early summer is likely due to lack of intermittent showers and so Collectors were advised to take up 100% preventive maintenance of functional schemes and Tube wells.
On sanitation, increasing the use of toilets and improving the solid waste and liquid waste management was discussed. The Collectors were also sensitized regarding effective convergence of MGNREGS with other schemes for providing employment to the rural population along with creation of assets ensuring livelihood security.
Important aspects like completion of houses, providing land to landless families, promoting rural mason training and complete enumeration of households with PWD as head were discussed for ensuring housing/dwelling security.
The commitment to create critical assets for the community through effective participation of the people in the Gram/Block/District Panchayat Development plans in utilizing the Finance Commission Grants was reiterated during the Conference.
The Collectors have been further asked to specifically focus on proper maintenance of the critical assets of the community like the Schools, Anganwadi Centres, health centres and veterinary care centres on priority. Marketing and promotion of the products of rural artisans/ producers along with skill development training was also discussed with the Collectors.
It is the vision of the Chief Minister to provide safe drinking water through functional household tap connection to each household in rural Odisha; to provide livelihood security to the vulnerable sections of the society through rural employment generation, creation of durable tangible assets for the community in convergence of various schemes and programs; women empowerment by providing skill development training and market support to the rural artisans and producers by making the services of the Panchayati Raj & Drinking Water reach the doorsteps of the rural households.
The Panchayati Raj & Drinking Water Department is fully committed to provide hassle free services to the rural households adhering to the 5T Mantra of the Government, said Shri Lohani.