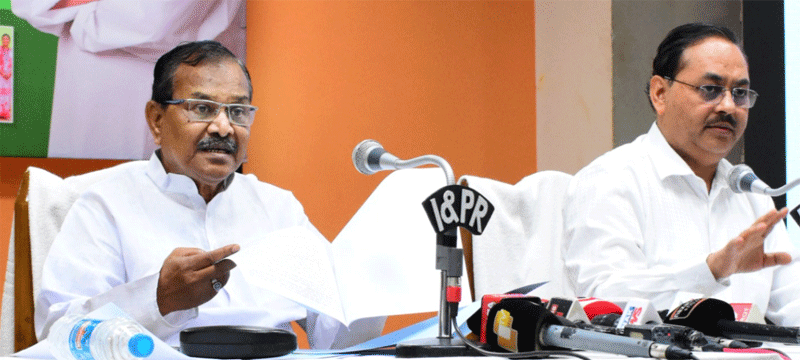 Bhubaneswar: In an aim to ensure safe drinking to all the rural habitations by 2024, the State Government has earmarked to spend an amount of Rs 57,000 on this account.
This was informed during the post-budget press conference held by Panchayati Raj and Drinking Water (PR&DW) Minister Pradip Kumar Amat and Principal Secretary PR&DW, Sushil Kumar Lohani here on Friday.
Under the guidance of Chief Minister, Panchayati Raj & Drinking Water Department has taken all out efforts to provide safe drinking water to all the rural habitations. Till now 13,930 PWS projects and 4,77,537 tube wells have been installed in the State, said Amat.
He said there is a budget provision of Rs. 5750 crores under Central scheme JJM, Rs.3750 crore under State scheme BASUDHA and Rs.1000 crore under NABARD-supported RIDF to provide drinking water to the people during the financial year 2023-24.
An amount of Rs.57,000 crore is the total outlay under different schemes to provide safe tap water to all families by 2024. It includes 207 Mega Drinking Water Supply Projects based on surface water at a cost of Rs.42,000 crore. Till date, 10 projects have been completed, 163 projects are in progress while the tender process for 34 projects is going on.
Out of total 88, 56,387 rural families 50,71,000 rural families of the State are being provided with tap water connection.
Besides, one State level, 30 District level and 46 Sub-District level (total 77) water testing laboratories have been set up and are operational for determining drinking water quality, informed Shri Lohani. 
The total budget provision in respect of PR & DW Department for the FY 2023-24 is Rs. 26,311.95 crore, which is 16% higher than last year Budget.
The government has made provision of Rs.1000 crore for revolving funds to provide wages to the job seekers if sanctions under MGNREGS from the Government of India are delayed, Shri Amat said.
An amount of Rs. 500 crores have been earmarked as State support to MGNREGS to provide employment in existing 20 migration prone Blocks of Balangir, Bargarh, Nuapada and Kalahandi districts.
In this financial year, it is proposed to extend this support to few more Blocks where rural people migrate out of distress, he informed.
During 2022-23, the Minister said, a total of 16.81 crore persondays has been generated so far. Participation in SC and ST is 50% and women participation is 47.9%.
During the current FY, 31.74 lakh households have been provided employment covering 49.11 lakh beneficiaries, which also includes 15,697 differently-abled beneficiaries. 3, 36,282 households completed 100 days of employment so far.
State Government commits to provide pucca houses to all houseless and households staying in Kutcha houses through various Rural Housing Schemes with a view to achieving the objective of "Shelter Security to All".
State has already paid an incentive amount of Rs.1343 crore to 8.20 lakh beneficiaries towards early completion of house construction.
State has paid BPGY House Repair Grant of Rs.818 crores @ Rs. 3000 per house to 27.27 Lakh Households towards completed houses under various Rural Housing Schemes.
The State has set a target to construct 9.59 lakh houses under PMAY (G) including 1.42 lakh houses towards FANI affected during FY 2023-24. There is a budget provision of Rs.5933.70 crore under PMAY (G).
ORMAS partners 105 Project Implementing Agencies (PIAs) to implement DDU-GKY components for making the rural poor youths skilled, employed, and economically independent and establish their own identity in the society in the long run.
Since inception of the programme, 2.15 lakh youths are trained and 1.50 lakh skilled youths are placed in private companies inside and outside the State, Lohani said.
During the FY 2023-24, he said, an amount of Rs.25 crore has been allotted for starting a new State scheme "Implementation support to ORMAS" for skill, livelihood & marketing.
Similarly, an amount of Rs.70 crore has been allotted for capacity building of PRI members and officials under the central sponsored Rashtriya Gram Swaraj Abhiyan(RGSA) scheme. In the current fiscal year, 54,310 PRIs have been trained by utilizing Rs. 32.79 crore.For the first time, the State Government has provided Rs.250 crore in the Budget for construction of buildings for Vana Suraksha Samiti.