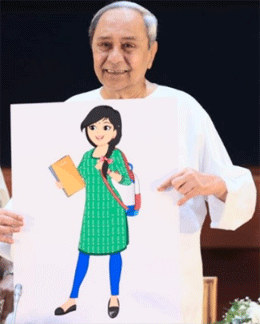 Bhubaneswar: Stressing on application of Innovation and Technology for gender equality, Chief Minister Naveen Patnaik on Friday said it will not only remove gender inequality but also bring a transformation in society.
The Chief Minister has said this while inaugurating a week-long programme organised by the Women and Child Development department on the occasion of the International Women Day.
He said that women's empowerment is not just a slogan but a reality today. The mothers of Odisha are the bearers of transformation. A huge organisation of 70 lakhs of women is transforming from SHG to SME today. Now, mothers have embarked on a journey to become entrepreneurs, he said.
"Mothers have created a special place for themselves in society with their talents and skills. They have proved that daughters are no longer a burden for the family today, but they are gems," Shri Patnaik pointed out.
Speaking on the theme of the International Women Day this year "Innovation and Technology for Gender equality," he said the rights of women could be protected and the violence against women would be prevented through innovation and technology in the field of education and employment.
Dedicating the day in honour of crores of women who have kept their struggle on in their day today life and created a niche for themselves, the Chief Minister stressed on the need for use of innovation and technology more and more and appealed to give equal rights to women in all fields and to work in the direction of the formation of a just society.
"Violence and discrimination against women can be prevented through gender equality, thereby establishing a fair society," he observed.
On this occasion the Chief Minister launched the youth mascot KUNI of the Women and Child Development department. The Mascot will work to create awareness among the young about their education, rights and in other sectors.
The new child policy "Prarambha" was also unveiled on the occasion. A case study booklet based on the success story of women, MIS portal of the Ashirwad Yojana and one stop centre were also unveiled.
The Chief Minister also awarded the best Anganwadi and Mission Shakti workers for their contribution to society on the occasion.
Among others, Chief Secretary Pradeep Kumar Jena, and Development Commissioner Anu Garg were present on the occasion.