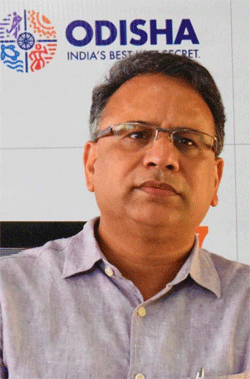 Bhubaneswar: Despite adverse challenges, the State Government has been able to manage its financial resources very effectively in last two years.

Due to which, the State's total loan burden, which was increasing almost every year, now it goes down by Rs 16,825.62 crore.

All thanks to the Team Finance led by Principal Secretary, Finance, Vishal Dev.

Shri Dev is personally monitoring the State's Fiscal Management and in fact Odisha Fiscal Management has been appreciated across the country and abroad.

According to official data, the total outstanding public debt of the State as on 31March 2020 stood at Rs.92,775.18 crore which is 17.8 percent of the State's Gross Domestic Product (GSDP).

The debt stock crossed Rs 1 lakh crore mark in 2020-21 due shrinkage of State Economy in view of Covid-19 pandemic, sources said.

However, in the Financial Year 2021-22, the State Government was able to decrease the total debt burden by Rs 7247.25 crore.

In this year, the State has paid interest of Rs 6342.45 crore against outstanding loans. So, Odisha's debt burden has touched Rs 97,205 crore by the end of 2021-22 fiscal.

Again, in the financial year 2022-23, the State was able to reduce the net debt burden by Rs 9578.37 crore till January of the current financial year.

The State Government's total loan burden remained at Rs 87,626 crore by 31 January 2023, which is 11.5 percent of the GSDP.

It is estimated that the debt stock will increase to Rs 97,037 crore by March 2023 which is 12.7 percent of the GSDP.

As the State Government estimated to borrow another Rs 15,000 crore during the upcoming financial year, the total debt stock will reach Rs 1.12 lakh crore by March 2024, the sources said.

The State has been able to reduce the debt stock from 50.7 percent of GSDP in 2002-03 to below the prudential level of 25 percent.

The Fifteenth Finance Commission and Odisha FRBM Act, 2005 prescribe for limiting the debt to GSDP ratio within 25%. The current debt level of Odisha is within the stipulated debt limit.

Accordingly, the per capita loan burden in the State has decreased after several years. From Rs 23,761 by the end of Financial Year 2020-21, the figure now reached at Rs 19,825 (by January 2023).