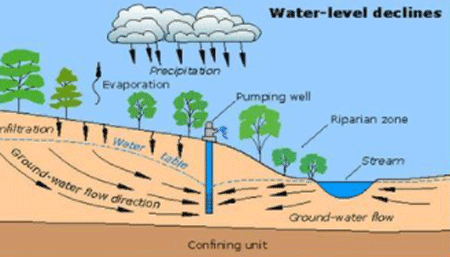 Bhubaneswar: In an aim to recharge ground water, the State Government has come up with a new scheme with an outlay of Rs 50 crore to be invested in next five years.
The scheme has been launched for augmentation of ground water recharge to improve ground water table and water quality conditions in water stressed blocks of the state through adoption of artificial recharge systems in existing village ponds, sources said.
Groundwater is increasingly being exhausted and at a much faster pace than precipitation can replenish it. As a result, in most of the areas, ground water table is depleting. The scope for natural recharge is being gradually reduced due to developmental activities and excess use of water, they said.
The Water Resources Department has recently notified the scheme with an outlay of Rs 49.23 crore for five financial years starting from the current year of 2022-23. This will be funded from State's own resources.
The scheme will be implemented in 6 semi-critical & 26 approaching semi-critical blocks having stage of ground water extraction above 65 per cent of the state.
Under the scheme, ground water recharge shafts will be installed in 2400 existing tanks or ponds. Target has been set to construct 490 such structures in each of the first four years while 440 structures will be built in the last year 2026-27.
Pani Panchayats will do the maintenance work of the installations with funding from the department, the sources said.
Few days ago, the State Cabinet had approved implementation of a scheme titled 'Community Harnessing and Harvesting rainwater Artificially from Terrace to Aquifer (CHHATA)' for conservation of rainwater.
The scheme will be implemented in 29,500 private buildings and 1,925 Government buildings covering water stressed 52 blocks and 27 urban local bodies of the State for a period of five financial years from 2022-23 to 2026-27. This scheme entails an expenditure of Rs 270 crore.
Under the CHHATA scheme, the Government will provide a subsidy of Rs 55,000 or 50 per cent of the cost of the RRHS, whichever is less in this scheme to encourage the public for adopt the scheme in their buildings.
According to an assessment carried out by Directorate of Groundwater Development, Odisha and Central Groundwater Board, South Eastern Region in 2020, the total annual groundwater recharge of the entire State is 17.08 billion cubic metre (BCM) with annual natural discharge of 1.37 BCM. The annual extractable groundwater resources of the State was 15.71 BCM.
Jajpur and Nuapada are the districts where the stage of groundwater extraction is more than 60% whereas Malkangiri has the lowest stage at 16.05 per cent.
Out of 314 blocks, 302 are safe, six are semi-critical and six are saline. The six semi-critical blocks are Baliapal in Balasore district, Korei in Jajpur district, Garadpur in Kendrapada district, Bhubaneswar and Bologarh in Khordha district and Nuapada in Nuapada District.
The six saline blocks are Chandbali in Bhadrak, Ersama in Jagatsinghpur district Mahakalpada, Marshaghai, Rajkanika and Rajnagar in Kendrapada district. About 14 per cent (46 blocks) of the total assessment units in the State stage of groundwater extraction lies between 60 to 70 per cent, the report says.