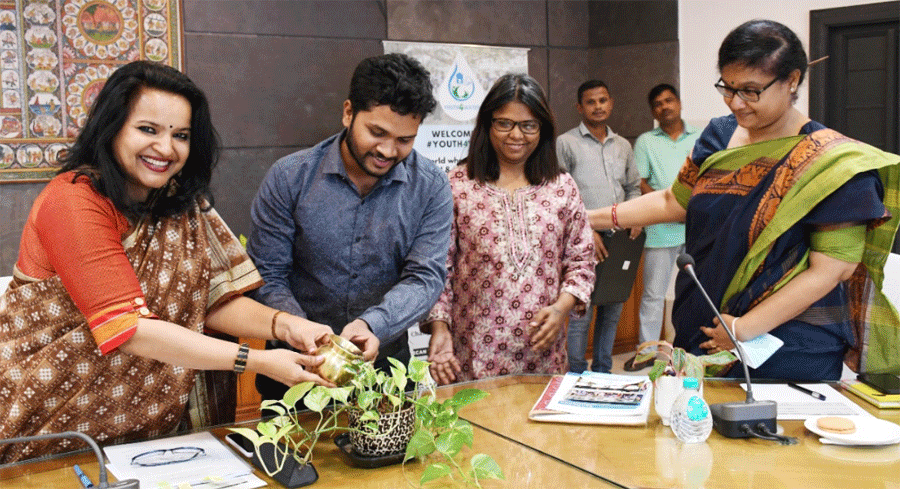 Bhubaneswar: Anu Garg, Additional Chief Secretary Water Resources has said that, "Youth, with their high levels of potential and motivation, are best suited to becoming the agents of change for a new, sustainable world.
She was addressing the Day Long event organized by the Department of Water Resources Odisha and UNICEF, which was conducted with youth of Youth4Water on 'Meet & Greet: Connect + Network + Collaborate: Ideation and achievement sharing session with youth on pani, swachta & climate change' with 30 youths of Odisha, on 29 November 2022 at Rajiv Bhawan, Bhubaneswar.
At the outset, she said that the Youth4Water campaign has increased engagement in "newer" areas such as adapting to climate change; mainstreaming gender; and engaging the youths in an optimistic manner.
This campaign provides platform for youth to become thought and action leaders. Our future lies in the hands of the youths of the nation. Water & Climate Change challenges need both policy & on-ground solutions.
The role of students, & youth in general, becomes very crucial in both. Young people have power to engage with policy makers as well as bring in behavioral changes in the society through grassroots level actions." Youth4Water campaign, through a wide array of activities, aims to join youth, capacitate them and enthuse them to become leaders of change for Water Conservation, Climate Resilience and WASH in Odisha.
In this context, encouraging innovation and entrepreneurship in these fields is a key thrust area in the campaign. Over the past one year, Youth4Water has reached out to thousands of youths through online orientation sessions and value adds to partner activities on innovation.
In this session, the winners of Youth4Water Innovation Awards were awarded with certificates by Shrimati Garg, ACS DoWR.
Furthermore, the youths brainstormed with the policymakers on how they can contribute to make Odisha water secure.
This session was an enriching event for the youths of the state who have been actively engaged in the campaign to become positive change agents.
The youths discussed why voices of youth are important and how they can communicate messages to the masses in simpler language. A youth group came up with an innovative idea on 'digitization of prescriptions in hospitals' to promote a greener environment. They showcased their idea in form of a skit.
On the occasion, Shipra Saxena, WASH Specialist at UNICEF India said, "We must amplify messages on climate change & make lives of children & youths better. UNICEF firmly believes in bringing decision makers and influencers together with young people to not only put a spotlight on issues that matter young people the most but also generate additional opportunities for child-focused actions and initiatives."
Dr. Yannam Deepak, a youth participating from Youth4Water said, "Youths are torchbearers for climate action and our voices need to be amplified to raise awareness within the community.