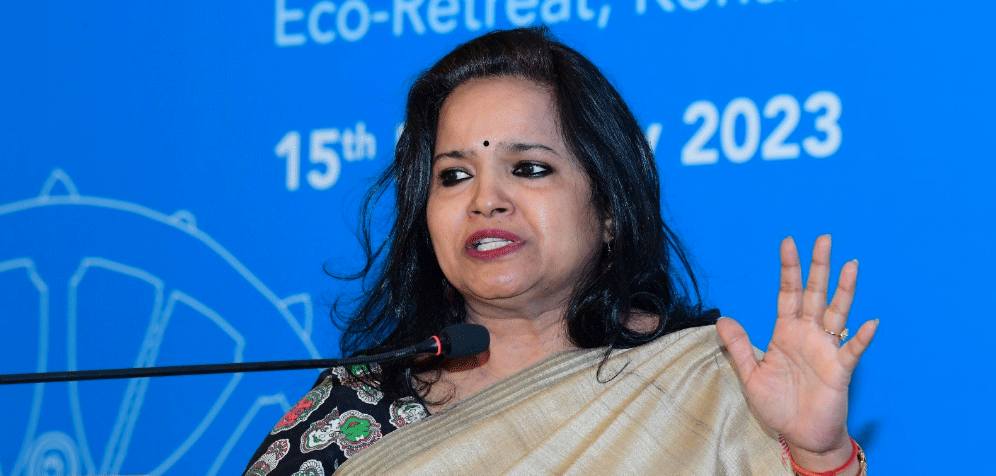 Konark: Additional Chief Secretary Water Resources Anu Garg said that the State has taken rapid stride in irrigation development under the visionary leadership of Chief Minister, Naveen Patnaik. In last ten years, more than 15 lakh hectares of cultivated land have been provided irrigation facilities.
New innovative schemes namely Parbati Giri Mega Lift irrigation for farmers of upland areas and Biju Krushak Deep Bore Well Secha Karyakrama for small and marginal farmers have been implemented for rapid irrigation expansion, said she.
At the Senior Officers Conference, On 15 February 2023, a detailed presentation on irrigation development titled "Rural Prosperity through Irrigation" was made by a team comprising of Anu Garg, Additional Chief Secretary, Water Resources, Vineet Bhardwaj, Collector, Mayurbhanj and Chanchal Rana, Collector, Bolangir
ACS DoWR said that as a result, 200 mega lift projects have been completed and more than one lakh deep Bore Wells have been installed and handed over to farmers. Giving a further thrust to water infra, in last three years, Government has approved projects costing more than ₹40,000 crore.
These projects include ₹10,760 crore for construction of 170 new Mega Lift Irrigation projects, ₹4,198 crore for installation of one lakh bore wells, ₹11,700 crore for construction of In-stream Storage structures, ₹1,150 crore Canal Lining , ₹823 crore for modernisation of irrigation projects under Nabakrushna Choudhury Secha Unayan Yojana, ₹763 crore for Cyclone Resilient Embankment Project, ₹1,400 crore for drainage improvement programme and ₹5,000 crore for Water Sector Infrastructure Development Programme.
The Additional Chief Secretary during presentation highlighted the positive impact of big irrigation project in transforming the socio-economic condition of the local population and told that Upper Indravati Muti-purpose Project has played an important role in making Kalahandi district rank among the top 25 rice-producing districts of India.

She explained how the Water Resources Department is transforming the lives of people by transforming its own systems under the 5T framework of the Government to ensure timely completion of projects. The Additional Chief Secretary further highlighted on the crucial role played by the District Collectors in completing iconic projects, responsible rehabilitation, ensuring full utilization of irrigation potential, and use of water as a resource in terms of fisheries, energy and tourism.

The Collector, Mayurbhanj highlighted the efforts made by the district administration in resolving long pending LA, RR and Forest issues of Deo Medium Irrigation Project and Subarnarekha Irrigation projects. As a result, Deo irrigation project has been completed and inaugurated by Chief Minister on 12th August 2022.

Similarly, on successful completion of the missing links in the canal system of Subarnarekha, water was released for providing irrigation to additional area of 32,480 Ha. The Collector, Bolangir highlighted the efforts made by the district administration towards completion of Lower Suktel Irrigation Project. He spoke about R&R challenges and the efforts undertaken by district administration to coordinate with different departments and managing vested interests. He explained how responsible rehabilitation was achieved by ensuring livelihood opportunities for displaced and affected families and provision of amenities in all R&R colonies.
In the concluding remark, the ACS Shrimati Garg said that Chief Minister has instructed for time bound completion of irrigation projects. Accordingly, department has set target to complete Gangadhar Meher Lift Canal in Bargarh, Ghatakeswar in Ganjam and Manjore in Angul during 2023 and Lower Suktel, Kanupur, Anandapur and Subarnarekha during 2024. Apart from the above, the department has also set target to complete 46 In-stream storage Structures, one lakh new Bore Wells and 170 new Megalift projects in next three to four years.