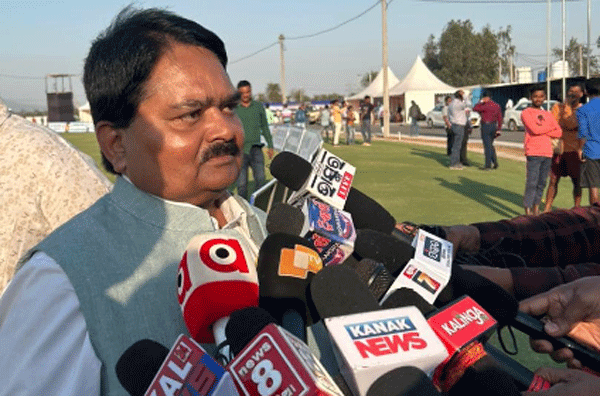 Athagarh: Setting up Eastern India's First Corporate Run School of Sports, MGM Group Chairman and Managing Director (CMD) Pankaj Lochan Mohanty on Wednesday announced to introduce courses for sports technical education in the School of Sports soon.
Addressing at the inauguration of MGM School of Sports and Centre of Excellence for Cricket at Kapursingh near Gurudijhatia in presence of galaxy of eminent personalities, Chairman Shri Mohanty said, "We are planning to have a sophisticated Center of Excellence with a vision to create outstanding sports personalities, with the support of the Government of Odisha and Odisha Cricket Association (OCA)."
"We seek to choose players in the field of Cricket and in future for other sports and will bear their training and logistic expenses," he said.
The newly inaugurated School of Sports will be in the Model of National Cricket Academy & other sports academies, the Chairman said, adding, "In future we also will like to add some courses for sports technical education for which we are in talk with different sports consultants."
Shri Mohanty said the Sports School has been set up as per the vision of Honourable Chief Minister Naveen Patnaik to contribute in making Odisha as a Sport Hub.
For the present, the MGM Group has developed the field for the cricketing activity. It had requested the Odisha Cricket Association to organize a Friendly T-20 Format Cricket Match between Odisha and Chhattisgarh Senior Men's Team. And, today the match was organized and Odisha won it.
From 17 February, the formal District Tournament of Odisha Cricket Association will start at this ground, OCA Vice President announced.
"The Academy is designed to accommodate 100 players for cricket and other sports apart from other supporting staff. Priorities will be given to players from Odisha," emphasizes the MGM Group Chief.
The School and Sports has been set up over a land of 30 Acres with a total project cost 40 crores. This Project will be completed in 3 years, he informed.
Speaking to Media Shri Mohanty said that the School of Sports will be one of its kind in the entire Eastern India. No such private-run institute is there in the entire Eastern India states till now.