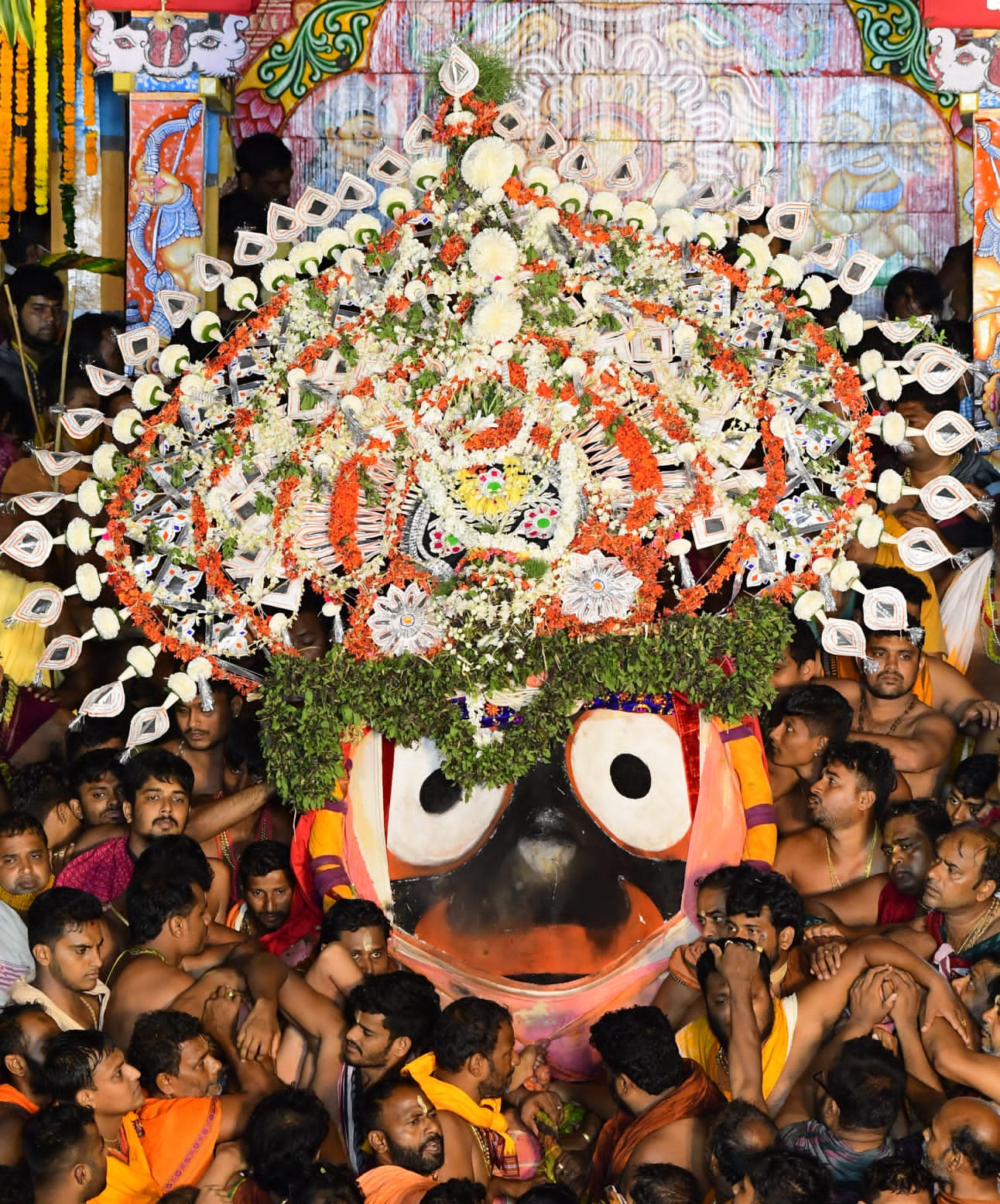 Puri: The world famous Rath Jatra came to an end with the entering of Lord Jagannath, Lord Balabhadra and Devi Subhadra to the sanctum sanctorum of Srimandir in a special procession and devotional atmosphere this evening.
After morning rituals are completed for the holy sibling, the other rituals like Sandhya Alati, Sandhya Dhupa, Charmala Bandha, Singhasana Majana, and Puspanjali will be done. The deities were then taken inside the Srimandir in a single procession called 'Goti Pahandi'.
As per age-old tradition, Rama Krishna and Madan Mohan were taken inside the Srimandir first and subsequently, Lord Sudarshan, Lord Balabhadra and Devi Subhadra were ushered into the sanctum sanctorum in Goti Pahandi. Finally, Lord Jagannath has been taken into the Garbhagriha.
Lord Jagannath's 'Goti Pahandi' was obstructed by His consort Goddess Mahalaxmi as she was annoyed at being left behind in the temple. After he offered Rasagolla and a Saree to Devi Mahalaxmi, Lord Jagannath was allowed to enter into the Temple.  Now, devotees will have to wait for another year to get a glimpse of the Trinity at the Grand Road.  
In Goti Pahandi procession the Deities move one after another, which means the next deity only moves from the chariot only after the former Deity reaches the Ratna Singhasana.
For the second time in a row, the 12-day festival that started on June 12 was conducted without devotees due to Covid-19 situation. Only Sevayats pulled the chariots.
The Shree Jagannath Temple Administration (SJTA) headed by Dr Krishan Kumar and the Puri District Administration team led by Samarth Verma have ensured smooth completion of the Ratha Jatra. Dr Kumar, an ardent devotee of Lord Jagannath, was completely involved in all rituals and matters related to the Jatra and temple.   
The entire Puri district was kept under shutdown restrictions during the pulling of chariots. Tight security arrangements have also been made for the festival.
The entire Grand Road was under Section 144 of the CrPC and a curfew-like situation prevailed in the pilgrim town. All entry points to Bada Danda and roads leading to Puri were barricaded and sealed. The Puri citizens have also extended a whole-hearted support for the festival.
Millions of devotees and followers of Jagannath culture watched the spectacle on their TV sets, mobile phones and computers as the State Government facilitated live telecast and streamed all the rituals during Rath Jatra, Bahuda, Suna Besha, Adhar Pana and Niladri Bije. In the past, at least five lakh devotees participated in the Rath Jatra of the Trinity at Puri.