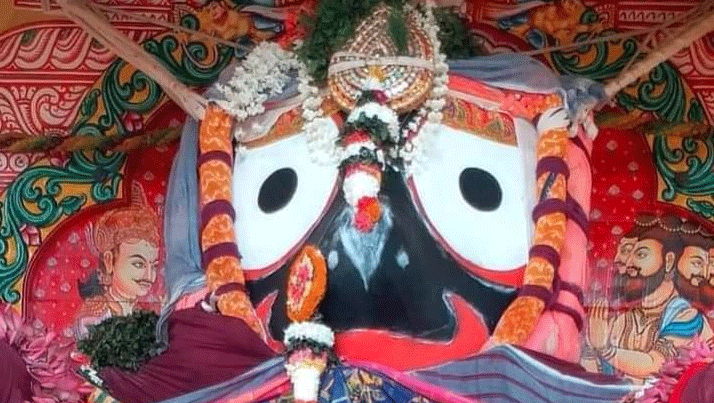 Puri: Lord Jagannath and His siblings were taken to Adapa Mandap inside the Shree Gundicha Temple where they will stay for the next seven days till Bahuda Jatra or Return Car Festival on July 23.
The deities, who reached their destination on Monday riding three majestic temple-shaped chariots, stayed on Rathas during the day and evening went inside the abode with a majestic procession.
The Trinity entered Shree Gundicha temple following 'Pahandi' ritual conducted by the servitors in a very high spiritual atmosphere. Amid chants of Jai Jagannath and Haribol, 'Goti Pahandi' was conducted outside the Shree Gundicha temple with Lord Balabhadra being escorted to the 'Ratna Simhasana' of the temple first followed by Devi Subhadra and Lord Jagannath. The Daita servitors carried out the ceremonial procession after the Sandhya Dhupa ritual.
It was a very devotional moment when Lord Jagannath stepped down the Nandighosa swinging a giant tiara. The Sevayats very smoothly conducted the rituals under close supervision of Shree Jagannath Temple Administration (SJTA) Chief Administrator Dr Krishan Kumar.
All other rituals such as Sakal Dhup, Abakash Niti, Maailam Lagi were performed in the morning. Adap Mandap is also known as the Janma Bedi or the stage where the idols were born. Hence, it is considered to be extremely sacred and divine place.
Though there is ban on Darshan or entry of devotees to the Shree GundichaTemple, the SJTA has made all arrangements so that the devotees can have Abhada Prasad of the deities that would be available from tomorrow.
At the Adapa Mandapa, the special Banakalagi ritual will be performed by the Dutta Mohapatra Sevayats.