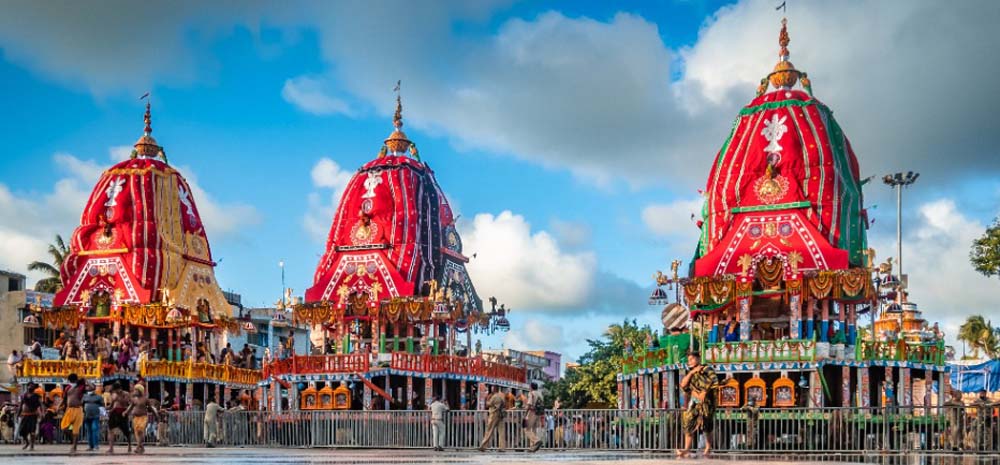 Puri: With the completion of 'Dakshina Moda' of chariots of Lord Jagannath and his siblings, the rituals for Bahuda Jatra started in the holy town Puri on Saturday.
The three chariots parked on the Saradhabali in front of Jay-Bijaya Dwara of Shree Gundicha Temple, facing north since Rath Jatra, are turned towards Jagannath Temple in the south. The rituals began after the servitors brought 'Agnya Mala' (garland of the consent of the Lords).
Police personnel have pulled the chariots during 'Dakshina Moda'. They expressed happiness and thanked Lord Jagannath for giving them the opportunity.
As per the ritual, Debadalana, the chariot of Devi Subhadra, was first pulled and turned towards Shree Jagannath Temple in the south. After Debadalana, Lord Balabhadra's chariot Taladhwaja and Shree Jagannath's Nandighosh have turned towards the south direction. The chariots are now kept near Nakachana Dwara, the eastern gate of Shree Gundicha Temple.
According to sources, all rituals are going on smoothly in the Shree Gundicha Temple. Dwarfita Niti, Bhitra Sodha, Mangal Aalati, Mailam-Tadapalagi Niti, and Abakasha Niti, Rosha Homa, Surya Puja, Dwarapala and Garuda Puja, Gopala Ballava Puja, Sakala Dhupa, etc performed in the morning.
Similarly, the chariot repair committee has fixed the minor cracks that have developed on three chariots-Taladhwaja, Nandighosh and Darpadalana.
Meanwhile, the Shree Jagannath Temple Administration (SJTA) and Puri District Administration have started full preparations for smooth conduct of the Bahuda Jatra, to be held on 20 July.
The Bahuda Jatra will also be held without participation of devotees. The District Administration is going to impose curfew in the town starting from 8 pm on Monday. The curfew will continue till the end of the Jatra on 20 July.
"Like Ratha Jatra, prohibitory orders under Section 144 (CrPC) will be clamped in Puri from 8 pm on Monday in view of the Bahuda Jatra. No one will be allowed to witness the Jatra from rooftops," said Puri Collector Samarth Verma.
RTPCR testing of all Sevayats, who are going to participate in the Bahuda, Jatra has been started in Puri. All who tested negative or fully vaccinated will be allowed to perform rituals for the Bahuda Jatra, sources said