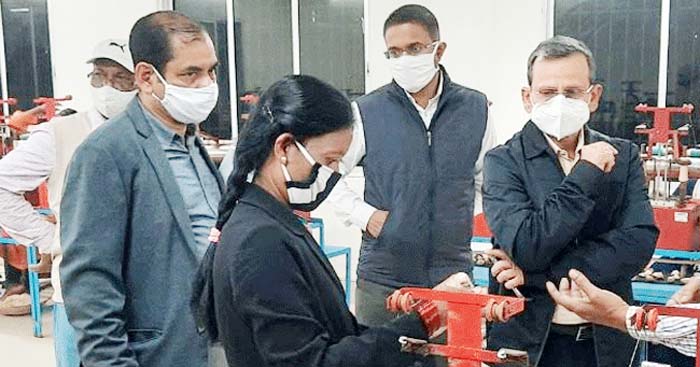 Keonjhar: Development Commissioner Suresh Chandra Mahapatra has appreciated the efforts of the district Administration of Keonjhar, which has taken an initiative to provide sustainable livelihood for the mining affected people through the Tassar Silk Park.
While appreciating the quality products, Mr.Mahapatra advised to open sales centers in Keonjhar and Bhubaneswar so also tie up is needed with Corporate Sector, so that these innovative products will attract major markets.
Mr.Mahapatra during his three days long marathon District Visit from 19-21 December, he made it a point to visit the Tassar Silk Park, which has earned a name in the National Arena.
He along with District Collector Ashish Thakare visited the Park and talked to the tassar rearers.
The Park has 100 Solar Powered Improved Reeling Machines, 10 re-reeling machines, five deflossing machines, two book making and one Digital Textile Printing Machine
The Tasar Silk Park is being done under RKVY and DMF. BSUPs taken up in Harichandanpur and Banspal Blocks, which will provide Tasar DFL to 5000 Tasar rearers, said an official.
Asan Arjun Plantation of 1500 acres taken up. It's an important livelihood initiative in mining affected areas, an official pointed out.
Mr.Mahapatra also visited Kanpur irrigation Project and advised to complete the project at an early date, so that farmers will be able to reap the benefits.
Kanpur Major Irrigation Project is coming up on River Baitarani, which will facilitate around 30,000 Hectares in Keonjhar.
This will act as a flood control measure in Keonjhar, Bhadrakh and jajpur districts, say officials.
Visiting Mega Drinking Water Project, Development Commissioner was happy as the Project is constructed to provide drinking water to all in the Kenojhar district in a time bound manner.
Funding worth Rs.2500 Crore has been made from OMBADC and DMF Funds and it has been targeted to complete the project by 2021.
Mr.Mahapatra reviewed COVID-19 Management and took stock of vaccine management system in place as vaccines for the dreaded disease will be available in early 2021.
During the three days long visit, Development Commissioner, Mr.Mohpatra harped on protection of life and livelihood during the COVID-19 Pandemic, which Chief Minister Naveen Patnaik has been advising the State Administration.