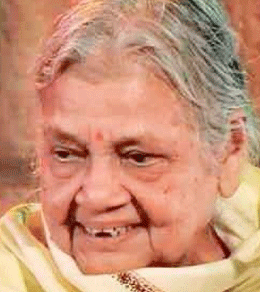 Chief Minister Naveen Patnaik has approved a proposal of the Odisha Sangeet Natak Akademi to institute 'Sunanda Samman' every year to personalities for outstanding contribution to classical music.
The award has been instituted in memory of Indian classical singer Sunanda Patnaik, comprises of Rs 2.5 lakh cash reward and a citation.
The award conferred by the Odisha Sangeet Natak Akademi to noted classical music personalities every year has been renamed as 'Sunanda Samman'.Singer of Gwalior gharana of classical music, Sunanda was referred to as 'Guruma' in the classical music circle.Her popular devotional Odia song 'Jeevana Patra Mo Bhariccha Kete Mote' that was penned by her father, noted Odia poet, Baikunthanath Patnaik still holds a special place in the hearts of Odias.She has several 'bhajans' both in Odia and Hindi to her credit apart from several classical songs that she usually rendered in a high pitch.
Born in Cuttack, Sunanda started singing in All India Radio at the age of 14.She received initial training in music from Kundala Adi Narayana, and later honed her art under Vinayak Rao Patwardhan of Gwalior gharana. As a student, she was privileged to receive a scholarship in music from the first President of India, Dr Rajendra Prasad. She was awarded with the degree of Masters in Music by Pune School in 1956.
For her contribution to Hindustani classical music, Sunanda was honoured with the Odisha Sangeet Natak Akademi award in 1970 and 1971 and the Central Sangeet Natak Akademi Award for 2012She received Indian lifetime achievement award in 2009 and lifetime achievement award from The Orissa Society of the Americas (OSA) in 2012.She was also conferred with degree of doctor of literature by the Utkal University in 1999 and degree of doctor of music by Akhil Bharatiya Gandharva Mahavidyalaya Mandal.