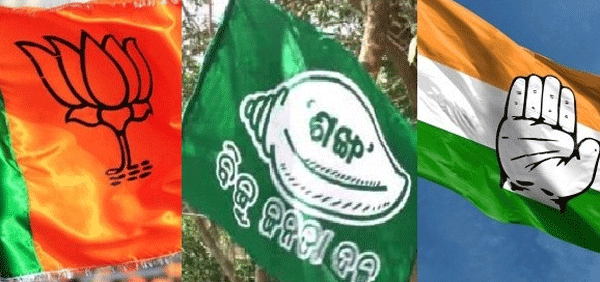 Bhubaneswar: All three principal political parties, Governing Biju Janata Dal (BJD) and Opposition BJP and Congress on Saturday released their lists of star campaigners for the Padampur by-poll.
Chief Minister and BJD Supremo Naveen Patnaik tops the list of star campaigners' of Biju Janata Dal. The list comprises senior leaders including Pranab Prakash Das, Prasanna Acharya, Debi Prasad Mishra, Ranendra Pratap Swain, Pratap Keshari Deb, and Atanu Sabyasachi Nayak.
The BJD has also included leaders Arun Sahoo, Puspendra Singhdeo, Bibhuti Balabantray and Raseswari Panigrahi in the campaigners list. Many of these leaders were not named in the star campaigners' list for Dhamnagar by-poll.
On the other hand, BJD leaders Prtiranjan Ghadai, Pramila Mallick, Boymkesh Ray, Pranab Balabantray and Sanjib Mallick, who were in-charge of Dhamnagar by-poll that the party lost with a huge margin, have been excluded from the fresh list.
Similarly, the BJP has also named state unit President Samir Mohanty, Leader of Opposition Jayanarayan Mishra and former MP Baijayant Panda as its star campaigners for the by-election. Union Ministers Dharmendra Pradhan, Ashwini Vaishnaw, Arjun Munda and Bisheswar Tudu will also campaign for the party candidate in the election.
The Congress' list of 40 star campaigners include Odisha in-charge A Chellakumar, State Congress President Sarat Patnaik, former president Niranjan Patnaik and senior leaders like Narasingha Mishra, Jaydev Jena, Santosh Singh Saluja, and Suresh Routray.
But the name of Barabati-Cuttack legislator Mohammad Moquim is missing from the list. He also did not figure among the party's prominent campaigners for Dhamnagar byelection also.
The ruling BJD has fielded Barsha Singh Bariha, while senior BJP leader and former MLA Pradip Purohit is the saffron party's nominee for the bypoll. Congress has fielded senior leader Satya Bhusan Sahu for the by-election.The by-election is scheduled to be held from 7 am to 4 pm on December 5. The counting of votes and declaration of results will be done on December 10.