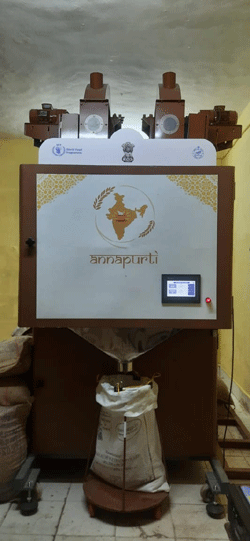 New Delhi: Union Secretary Food & Public Distribution, Sanjeev Chopra said Bhubaneswar has received the benefit of Annapurti Grain ATM developed by World Food Program.
Mr.Chopra was speaking in the National Conference of Food Secretaries of all the States and union Territories here on 19 November.
Annapurti Grain ATM can dispense two commodities and takes about 90 seconds in dispensing 50 Kg of foodgrains. The solution reduces manual labour and automates the distribution of foodgrains under the Public Distribution System (PDS).
Currently, 4 Annapurti solutions have been installed at Bhubaneswar Gurgaon, Dehradun, and Varanasi.
He said six more solutions are being installed at Gorakhpur, Lucknow, Shillong, Ahmedabad, Mumbai and Bengaluru. All these units have been installed by WFP on pro bono basis.
The solution has immense benefits to casual workers, migrant workers and industrial workers as they can avail their entitlements even after their working hours in an automated manner.
These solutions can also be installed in industrial complexes itself where the workers can lift their entitlements at the place of work only. The solution can essentially work just like normal banking ATM.
The States and UTs have been requested to express their interests for piloting the solutions.
Shri Chopra said that Government of India is aiming to achieve full distribution of fortified rice in all government programmes by the year 2023-24. The ecosystem is fully geared up to achieve the target and States/UTs have been requested to strengthen their respective machinery in order to be fully prepared to ensure the procurement, supply and distribution of fortified rice as per the stipulated timeline. The FCI is conducting this initiative all over the country.
He appreciated the efforts taken by States in ensuring food grains to migrants under the One Nation One Ration Card (ONORC) scheme. As an outcome of the scheme, more than 91 crore portability transactions have been recorded since its inception. Representative from Nandurbar (Maharashtra) shared the insights on the initiatives taken such as creation of district dashboard and migrants' profile in order to reduce the malnutrition.
Through a presentation the Department highlighted the Learning Management System (LMS) developed by it in collaboration with World Food Programme (WFP) which has seen more than 12000 registrations, along with generation of more than 34000 course completion certificates. There are currently 6 modules in the LMS and more are being added. States/UTs are requested to suggest topics of specific relevance to them. The LMS has digitised the capacity building of the PDS functionaries.
During the Conference, a presentation was made indicating the present status of finalization of accounts, their pendency and way forward for accelerating the same. Secretary, DFPD, impressed upon that the process may be expedited and as many as possible States' accounts be settled before the next Financial Year. He also stressed for improvement of infrastructure in Mandis/ Procurement Centres in the States for the overall benefit of the farmers of the State.