Bhubaneswar: With a view to achieve this ambitious target in such a dynamic and intense situation, it is imperative for all mining stakeholders, including policymakers and industry to adopt a holistic approach for incorporating long-term sustainability in the mining sector.
This was stated by Mining Major, SNM Group Managing Director Prabodh Kumar Mohanty, while addressing "Odisha Metals and Mining Conference- Unleashing the Potential for Sustainable Growth".
The Day Long Conference was organized by ASSOCHAM was inaugurated by Prafulla Kumar Mallick, Minister Steel & Mines.ACS Steel & Mines Deo Ranjan Kumar Singh graced the occasion. Major Mining Companies, Policy Makers, Administrators and Experts joined the Conference.
Shri Mohanty said that most of the mining companies both large and small have integrated sustainable mining practices and community development, leading to inclusive and responsible growth of the mining sector. It is crucial to adopt global best practices and latest technology while operating the mines to achieve higher productivity, operational excellence and high health and safety standards.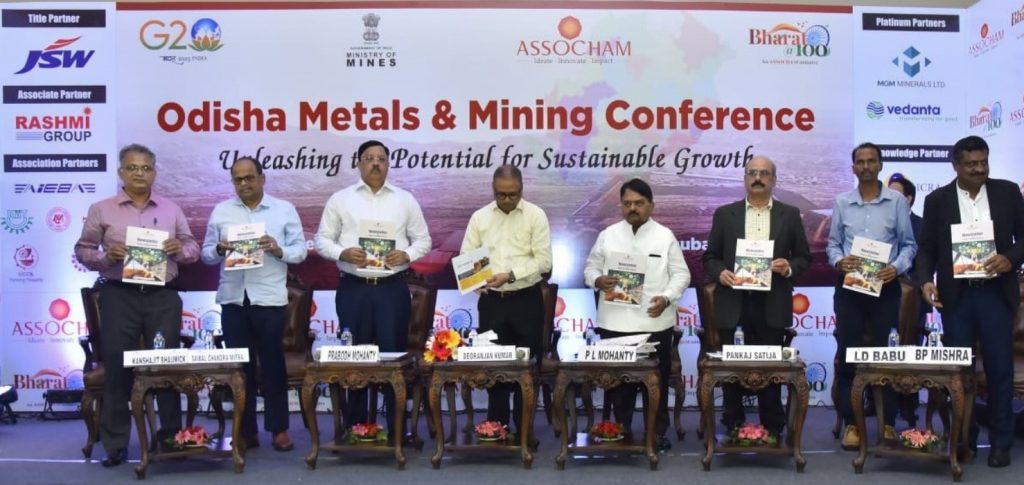 SNM Group Chief said "When we talk of the growth potential of Odisha, the state is considered to be the mineral hub of India with 92% chromite, 92% Nickel, 52% Bauxite, 44% Manganese, 33% Iron Ore and 24% Coal reserves of the country. About half of the country's iron ore production is produced by Odisha".
The annual average growth rate of the industry sector in Odisha during the last 9 years is projected at 5.36% as against 3.77% at the national level, according to the State Focus Paper (2022-23) study conducted by National Bank for Agriculture and Rural Development (NABARD).
The industry sector continues to have a growing contribution in the State's Gross Value Added (GVA) economic productivity metric, with a 36.26% share to 26% at the National level. It is anticipated that the high growth rate of the industry sector will also contribute to the remarkable growth rate of the mining and metal industry of the State.
Shri Mohanty said that Geological Survey of India (GSI) have handed over 28 (G2/G3 exploration level) Geological Reports and 25 (G4 reports) of different mineral blocks to Odisha, while Mineral Exploration Corporation Limited (MECL) has handed over 10 (G2/G3 exploration level) Geological Reports to the State.
Since 2015, a total of 286 mineral blocks have been auctioned so far across the country, out of which 48 mineral blocks were auctioned in the Odisha State (as on July, 2023). It is felt that more and more blocks should be offered for auctions with time bound schedule for expeditious development and production from these blocks.
During the financial year 2021-2022, Odisha state has been able to collect mining revenue of Rs 49,858 crore, which is much higher as compared to revenue of Rs. 13,918 Crore collected during financial year 2020-2021, pointed out the Mining Major Chief.