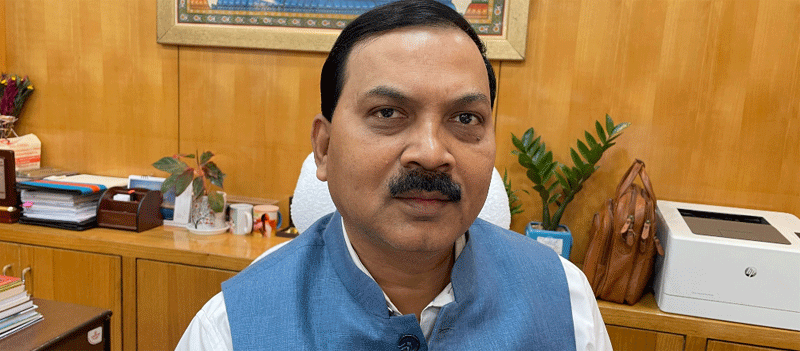 Sambalpur: ACS Revenue & Disaster Management Satyabrata Sahu had said, "The situation is now under control. Since things are under control and no incidents of violence reported in the last 48 hours, I would like to thank all of you (people of Sambalpur town). Our efforts are on to bring normalcy back more quickly. We are discussing it." 
He appealed to all to maintain the brotherhood and coordination. "Steps as per the law are being taken. Sambalpur is a famous city. I would like to request you all that we should try our level best to keep the city's reputation intact," he urged.
ACS Revenue and Disaster Management and Special Relief Commissioner (SRC), Satyabrata Sahu was camping in Sambalpur and monitoring the situation. DGP Sunil Bansal is also camping in the violence-hit town since Saturday.
Though situation improved in violence-hit Sambalpur, the State Government has extended the suspension of internet services in the district for another day till 10 AM on April 18.
As a precautionary measure and to ensure that no rumour will be spread through social media platforms, the internet suspension period has been extended for another 24 hours, officials said.
Following communal tension erupted during a Hanuman Jayanti rally on April 12 evening, the State Government has shut down the internet services in the entire Sambalpur district since 10 AM of April 13.
As violence incidents again took place in the western Odisha town, six police station areas of Sambalpur were put under curfew since April 14 mid-night.
Meanwhile, the police arrested another six persons in connection with the violence incidents. While three persons have been arrested for their involvement in the stone pelting incident of April 12 while another three were arrested in connection with the April 14 violence, Sambalpur SP B. Gangadhar said on Monday.
So far, 85 persons have been arrested in connection with the various violence cases that took place in Sambalpur, he said.
Meanwhile, the district administration has further relaxed the curfew timing. In a latest order, Sambalpur Sadar sub-collector Pravash Chandra Dandasena said the curfew has been relaxed from 7.30 AM to 11.30 AM and 3.30 PM to 6 PM.
DGP Shri Bansal also held a meeting on Monday morning. After attending the meeting, Sambalpur SP said, "We have been asked to collect evidence against all those persons involved in the violence and put them behind the bars."
District Collector will hold a meeting with both the communities to again appeal them to cooperate with the administration to bring normalcy in the town for the larger interest of the public, he told the media.