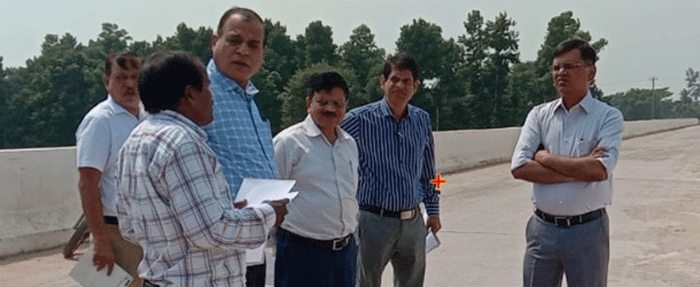 Bhubaneswar: Senior IAS Officer, Sanjay Kumar Singh, Principal Secretary Rural Development made field visit to review on going projects.
Mr.Singh along with senior officals visited Balipatna and Banamalipur areas of Khordha district on 20 October and reviewed various projects in these blocks.
Mr.Singh visited the high level bridge constructed over River Kushabhadra at a cost of Rs 37.20 crore.

The bridge connecting Shishu Ananta Peetha and Jaydev Peetha, benefits over 18,000 people of four gram panchayats.
The Principal Secretary also reviewed the progress of Chanahat-Rajas and Banamailipur-Balanga roads built under Mukhyamantri Sadak Yojana.
Mr.Singh, who is also the Principal Secretary of the Information & Public Relations Department, visited the famous Shishu Ananta Peetha and enquired about its glory from its Secretary Tanaya Das Goswami, who requested the Principal Secretary for the development of this famous site.
Mr.Singh assured all out support for the People Centric Developmental Projects, said sources.