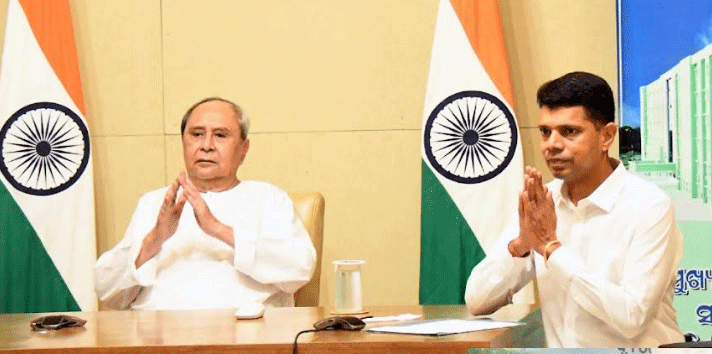 Bhubaneswar: Chief Minister Naveen Patnaik Wednesday said that the new District Headquarters Hospital in Kendrapara will transform the healthcare system in the district.
Inaugurating a new hospital complex with 2000 beds, modern OPD Unit, Casualty and Trauma Care, five-bed Trauma ICU, Radiology, MRI CT Scan facility, advanced OT Complex, 15-bed SNCU with Kangaroo Maternal Care facility and 34-bed ICU virtually, the Chief Minister said that this modern hospital will play an important role in transforming the healthcare sector in Kendrapada district.
"Patients of the district no longer need to go to Cuttack or Bhubaneswar for treatment. They can get good healthcare only in their own district," he said. The Chief Minister said that for his government every life is precious. Secretary to CM V K Pandian moderated the Meeting.
The Government is working with this ideal, said the Chief Minister while advising the doctors and paramedics to serve the patients with determination.
"A smile on the patient's face and confidence in the heart will be a great reward for you and for all of us and can bring us satisfaction," Mr.Patnaik added.
Highlighting the health services in the state, the Chief Minister said that lakhs of people are getting good treatment at no cost under Biju Swasthya Kalyan Yojana."Millions of families are benefiting. The scheme has reduced the medical concerns of the poor," he said.
Minister Industries, Pratap Keshari Deb, who was present on the occasion, said that Kendrapada is Biju Babu's work ground.
"The Chief Minister has a special vision for the development of Kendrapada. Today a new milestone has been established in the field of healthcare in Kendrapada district," Mr.Deb added.
Food Supply and Consumer Welfare & Co-operation Minister Atanu Sabyasachi Nayak said that the day is one of pride and glory for the people of Kendrapara.
"The Chief Minister has given more than Rs 100 crore for the improvement of health services in the district. Funds have been provided for improving the infrastructure of all health centers in the district," he said.
Kendrapara MLA Shashibhushan Behera praised the Chief Minister's vision for improving health services in Kendrapara.
Secretary to the Chief Minister 5 T VK Pandian coordinated the programme.