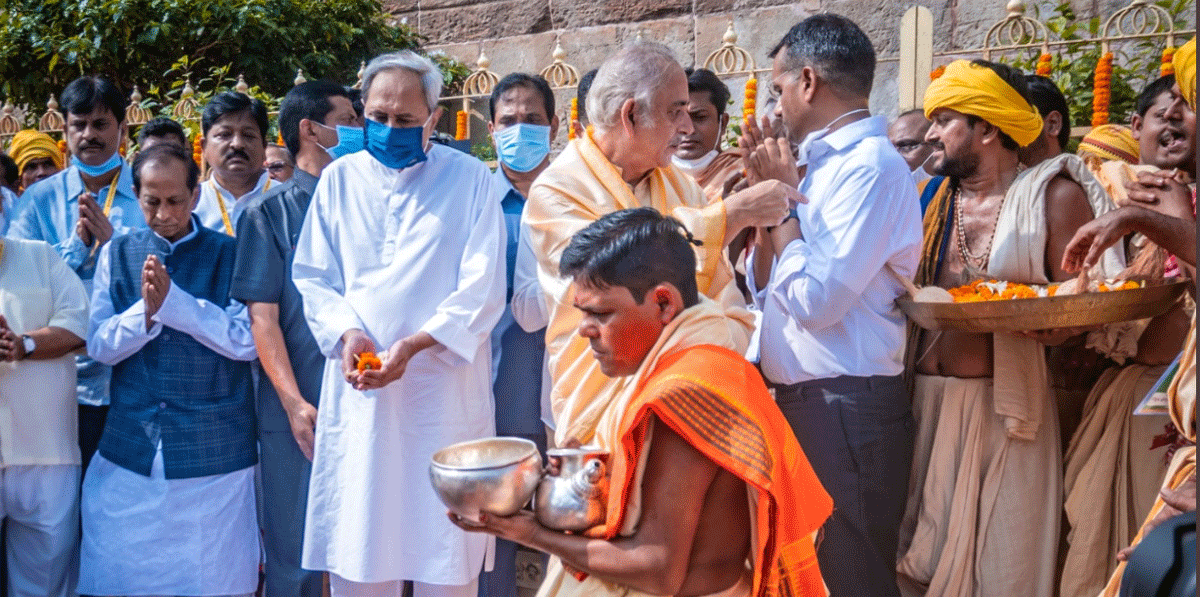 Puri: Today, on 24 November, Odisha has scripted a new history with the Shilanyas of ambitious Shrimandir Parikrama Prakalpa following a Mahayajna at Lord Jagannath Temple here.
Puri King Gajapati Dibyashingha Deb, the first servitor of Lord Jagannath, performed Purna Ahuti and then laid the foundation stone of Shrimandir Parikrama Prakalpa (Heritage Corridor Project) in presence of Chief Minister Naveen Patnaik.
Surya Puja and other rituals that accompany Shilanyas and Bhumi Puja were also performed in the hands of Gajapati Maharaj, as per Vedic rituals during the event.
Assembly Speaker Surjya Narayan Patro, several Ministers including Law Minister Pratap Jena, Cooperation Minister Ranendra Pratap Swain, School & Mass Education Minister Samir Dash, Mines Minister Prafulla Mallik, State Planning Commission Deputy Chairman Sanjay Das Burma and MP Pinaki Misra attended the cultural event.
Local MLA from BJP Jayant Sarangi and State Congress President Niranajn Patnaik too graced the occasion. Senior Officers including Chief Secretary SC Mahapatra and 5T Secretary VK Pandian too remained present on this occasion.
Krishan Kumar, the Chief Administrator of the SJTA and Puri Collector Samarth Verma were also present during the grand event.
"Today is a historic day for all Jagannath devotees across the globe and indeed a sacred day for the people of Odisha," said the Chief Minister after his Parikrama around the Srimandir.
He also felicitated 10 persons, who have donated their land adjacent to the heritage corridor project.
"It is a historic day for the State and also Temple Administration. It is the blessing of Mahaprabhu, we got the opportunity to serve the Lords," said Dr Kumar.
"As per our plan, we target to complete the project within 18 months. Background works of the project including art and culture works and stone carving works. I am sure that with the support of Puri citizens, Sevayats and other stakeholders, we will complete the work on time," he said.
Conceived in 2016, the Puri Heritage Corridor Project was first unveiled in December 2019. The Chief Minister has given approval for a budgetary provision of Rs 3,200 crore for developing Puri town as a World Heritage City.
The projects includes the Heritage Corridor, Sri Setu, Command and control centre, Badadanda heritage streetscape, Jagannath Ballav pilgrim centre, multilevel car parking, municipal market development, Swargadwar development, Pramod Udyan, Gurukulam, Mahodadhi market, beachfront development, Puri lake, Musa river and Atharnala revival plan, and housing for sevayats.
The government has purchased land from 115 families around the temple to execute the project, which is a part of the Augmentation of Basic Amenities and Development of Heritage and Architecture (ABADHA) scheme for transforming Puri into a world-class heritage city.
The project is planned to allow devotees to experience a 'Parikrama' of the massive Sri Jagannath Temple premises, around the Meghnada Pacheri that surrounds the ancient 12th-century temple.
Being implemented at a cost of nearly Rs 800 crore, it envisages the development of mutts, a Shree Jagannath reception centre, amenities for devotees and enhanced security within a 75-metre radius of the shrine.