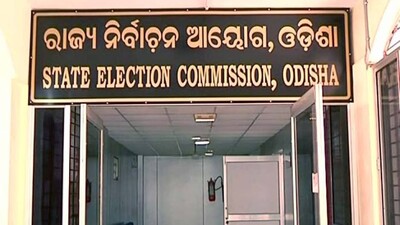 Bhubaneswar:  The State Election Commissioner (SEC) Aditya Prasad Padhi on Thursday ordered disengagement of GRS of Purusottampur Panchayat under Chandabali Block in Bhadrak District for violation of poll norms.  
The Commissioner has also ordered Collector Bhadrak to issue show cause notice to the Panchayat Executive Officer (PEO) for allowing Government office to be misused. The action was taken following a complaint filed by BJP yesterday before SEC.
According to sources, the Purusottampur Panchayat office was allegedly misused for a public meeting of a political party, which is against the Model Code of Conduct, which is in force in the State since January 11.
Similarly, the Commissioner has taken cognizance of the alleged auction of the Sarpanch post of Bileisarada GP in Bolangir district. The SEC directed Bolangir Collector to ensure that no willing person is obstructed/dissuaded from filing nomination for the post of Sarpanch of Bileisarada GP.
Notably, it was alleged that the Sarpanch post was auctioned after one candidate decided to pay a high amount for development of a local Jagannath temple. When this news came to the notice of the SEC, a probe was ordered.
Additional District Magistrate (ADM) Mahendra Mohapatra and Puintala Block Development Officer (BDO) submitted the report to the Bolangir district Collector Chanchal Rana today.
"It has been reported in the inquiry that a Gram Sabha was arranged for the alleged auction. Free and fair elections will be conducted at Bileisarda Gram Panchayat and any eligible candidate could file nominations for the forthcoming polls," Rana said.
Meanwhile, the State Election Commissioner has reviewed the removal of the hoardings, banners, posters etc. from Government buildings and public places through video conferencing with all District Collectors at 4 PM today.