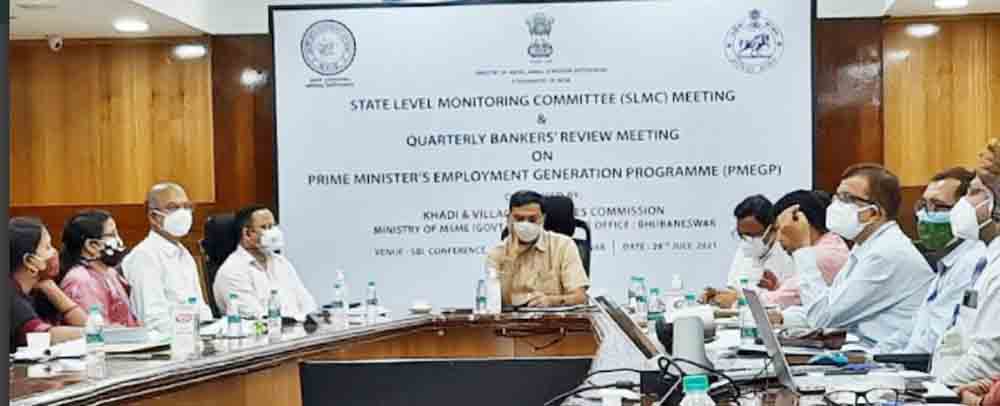 Bhubaneswar:Satyabrata Sahu, Principal Secretary MSME on Thursday warned banks for their poor show in extending credit to Startups under the Prime Minister's Employment Generation Programme (PMEGP).
Mr.Sahu today chaired the State Level Monitoring Committee (SLMC) meeting and held quarterly bankers review meeting on PMEGP here. Representatives for various public sector and private banks have attended the meeting and presented their progress reports.
During the review meeting, it has come to notice that many applications have been rejected by banks at state-level even after scrutiny at district level. The Principal Secretary expressed dissatisfaction over such behavior of banks and directed to personally contact concerned applicants, in such cases.
As many as 67 loan applications have already been rejected by banks, while another 55 applications are still pending with various banks.
Odisha had secured third position in the entire country by achieving 114.7 per cent in PMEGP. However, this year, due to poor show by banks, the State has remained much behind in the list.
The MSME Principal Secretary asked the bankers to give emphasis on proper implementation of the Government schemes. Sahu emphasized on speedy disbursement of high value loans to MSMEs, Start-ups & SHGs which will help reboot the MSMEs during the pandemic and lead to economic development of the State.
With the intervention of Sahu, few banks have promised to lend credit to three Startups eyeing to get the same from a long period.
As many entrepreneurs have expressed ignorance about the Pradhan Mantri Formalisation of Micro food processing Enterprises (PMFME) Scheme, Mr.Sahu proposed to undertake some major programmes in this regard.
As many Jatra actors of Jagatsinghpur and Kendrapara districts have lost their livelihood due to Covid-19 pandemic, Sahu advised the banks to extend finance to such persons for doing small business.