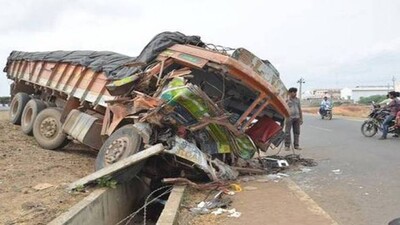 To take remedial measures to control rising road mishap deaths, the State Government has asked all Collectors, SPs and RTPs to submit joint inspection reports on road accidents from 1August.
The Supreme Court Committee on Road Safety has directed to conduct Joint inspection of fatal and grievous injury road accident spots involving inspector of motor vehicle, police and concerned road engineer to find out the exact cause of road accident.
Secondly, in the review meeting held on 8 March 2021 under the chairmanship of the Chief Secretary, it was decided to conduct joint inspection of all accident cases involving fatalities and grievous injuries.
Accordingly, the Transport Department has prepared a format for joint inspection and shared with all Districts. However, it is observed that, most of the Districts are not conducting joint inspection, State Commerce and Transport Principal Secretary MadhusudanPadhi has written a letter to all Collectors, SPs and Regional Transport Officers (RTOs) on Thursday.
"Therefore, the Joint Inspection by all the Districts must start from 1 August, 2021. Concerned officials may be instructed accordingly," he told the Collectors.
In consultation with the State level officers of police and road engineering, a joint inspection format (RS 01) has been revised, he said.
The Principal Secretary further informed that steps have been initiated for developing a mobile app for online submission of the format through an application namely Road Accident Management of Information System (RAMIS).
Till the online RAMIS application is rolled out, the joint inspection report in RSO1 should be submitted to the Transport Commissioner and DD (Road Safety) in C&T department on a regular basis through WhatsApp (Monitoring Group of this Dept.), he pointed out.
A detailed procedure has been laid out for the reporting. The Director, State Crime Record Bureau will share the District wise road accident data on a daily basis in the Road Safety State Monitoring Group. This data is also being shared by the Joint Commissioner Transport (Road Safety) with the RTOs.
For effective co-ordination among the concerned officials at District level, each RTO have been instructed to form a WhatsApp group in his/her jurisdiction involving IICs of all police stations, executive engineers, assistant executive engineers of all roads owning authorities, PDs of NHAI, inspector of motor vehicles, Assistant & Junior MVIs.
On receipt of District wise accident data, the concerned officers will plan for joint visit to the spot for conducting joint inspection within 48 hours.
Copy of the joint inspection report will also be shared with CID, CB and concerned chief engineers by the police officer and road engineer respectively. Non-submission of the joint inspection report without any valid reason will be viewed seriously, he warned.