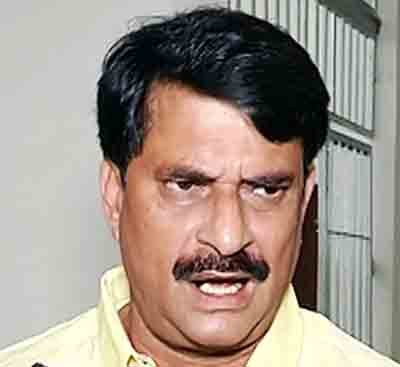 Bhubaneswar: Odisha Legislative Assembly on Monday witnessed a pandemonium as Opposition BJP and Congress MLAs created a ruckus inside the House alleging leakage of class-X board exam question paper ahead of the last day exam. However, School and Mass Education Minister Samir Ranjan Dash strongly denied the allegation.
When the House assembled for the day at 10.30 AM, Leader of the House and Chief Minister Naveen Patnaik moved the obituary reference to condole the death of former MLA from Jharsuguda Birendra Pandey, who died while undergoing treatment in a private hospital here on Sunday.
Soon after the House paid tribute to the ex-MLA, the BJP and Congress members trooped to the Speaker's podium and created a ruckus alleging class-X board examination question paper leak.
Showing the photocopies of the Mathematic question paper on the last day of the class-X board examination on Monday, the opposition members demanded resignation of Minister Shri Dash.
Speaker Bikram Keshari Arukha requested the BJP and Congress members to participate in the question hour and raise the issue during zero hour. However, the Opposition legislators continued their protest without paying hid to the Speaker's request.
In such a situation, the Speaker adjourned the proceedings till 4 PM without transiting any business except the obituary. However, normalcy returned to the House in the post-lunch session.
Speaking to media persons outside the Assembly, BJP Chief Whip Mohan Majhi alleged, "Though our Leader of Opposition had earlier raised the leak of question papers of history and political science subjects, no action was taken. Today again matriculation question paper was leaked in Puri district much before the commencement of examination. So, we were forced to disturb the question hour."
It is a sensitive matter. But the government is not giving any reply to it. As a result, the meritorious students will be affected, he said.
Shri Majhi demanded that the Minister should admit it and resign from his post.
Alleging a question paper leak rack is running in the state, Congress legislator Taraprasad Bahinipati said proper investigation needs to be done in this direction and strong action should be taken against the persons involved in it.
Shri Bahinipati said that the government is playing with the future of students. He demanded the resignation of Minister Dash over the issue.
On the other hand, the Minister denied the opposition allegation and said he had talked with the district collector, board officials and Puri district education officer but there was no information about the leak of the question paper.
Senior BJP leader Mohan Majhi said that the Minister was giving "false information". He accused Shri Dash of "misleading" the House about the leak as questions have already gone viral.