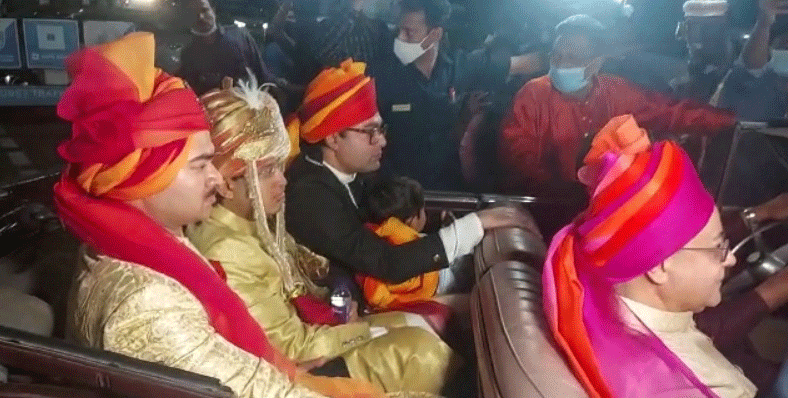 Bhubaneswar: There is a very popular song in Odia saying…"Asa Ki e Kha e ba… Raja Ghar Bahaghar Khana.." This song seems not applicable where Odisha's most popular and respected King Gajapati Maharaja Divyasingha Deb organized his youngest daughter Debeshi Devi's marriage here.

Thanks to television channels that the common people could get a glimpse of the royal weeding held at a luxury hotel in the State Capital.

The prevailing COVID-19 pandemic has played a spoilsport as the State Government allowed only 250 people to participate in the weeding occasion.

Though Odisha Governor Ganeshi Lal and Chief Minister Naveen Patnaik were among the list of invitees, many others missed the opportunity barring the members of the royal families in the state.

The Gajapati Maharaja's daughter Debeshi Devi will tie the nuptial knot with noted businessman Aditya Kehr, the son of Gurugram's Rajiv Kehr and Nisha Mahtab Kehr, a descendant of Burdwan Royal family.

While all the rituals including Pata Ring, Tilak and Mangalkritya are being performed at the king's palace in Puri and residence in Bhubaneswar, the final "Hasta Ganthi" (the important ritual of marriage) will be held at 11 PM in a luxury hotel in the city.

The wedding will be solemnized as per the Hindu rituals adhering to the State Government's COVID-19 guidelines, said Maharaja's Private Secretary Praveen Parida.

While the guests were treated at the hotel here, Maharaja also threw a fest at Puri Shree Nahar for the people of Puri, servitors, temple officials and others.

The arrangements of Mahaprasad have been made for guests in Puri this evening.

Sources said around 80 guests from the groom's side arrived in the State Capital last night.