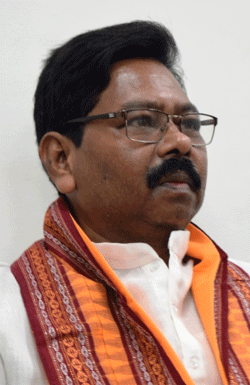 Cuttack: Senior BJP leader and Union Minister Bishweswar Tudu got interim protection from Orissa High Court in a criminal case lodged against him by two State government officers
The High Court today granted interim protection from arrest to Mr.Tudu in the case filed by the two officials of Mayurbhanj district accusing him of assaulting them. The interim relief will be effective for one month.
The employees alleged that the Minister had beaten them on January 21 in Baripada, were later hospitalized too.
Based on a complaint filed in this regard earlier last month, a case had been lodged against MoS Bishweswar Tudu at Baripada Town Police Station under Sections 323, 325, 294 and 506 of the Indian Penal Code.
While granting the interim relief, the HC asked Tudu to cooperate with the investigation and not intimate the witnesses.
Tudu will have to depose before the investigating officer (Inspector-in-Charge of Baripada police station) for questioning on March 4.  The next hearing of the case has been scheduled for March 8.
Senior lawyer Prasanna Kumar Padhi, who represented the case on behalf of Mr.Tudu, said the Minister denied having assaulted the two government officials and termed the allegations made in the FIR as a political vendetta against him.
"It is not believable that a responsible MP would show inappropriate behaviour to government officials," said the advocate of Mr.Tudu. 
Commenting on this, the Union Minister thanked the High Court for giving him the protection and condemned the police for searching his office in his absence. However, he said, his representative can also dispose before the investigation officer on March 4.