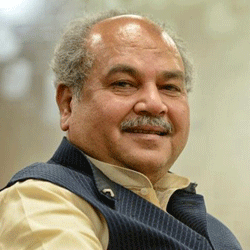 New Delhi: The Centre has released Rs 5969.61 crore to over 39.36 lakh farmers of Odisha under the Pradhan Mantri Kisan Samman Nidhi (PM-KISAN) Scheme.
This was informed by Minister of Agriculture and Farmers Welfare Narendra Singh Tomar in Lok Sabha recently.
He said the PM-KISAN Scheme was launched in an aim to provide income support to all landholding farmers' families (subject to certain exclusion criteria related to higher income status) across the country and to enable them to take care of expenses related to agriculture and allied activities as well as domestic needs and save them from the clutches of money lenders.
The scheme is effective from December 1, 2018. Under the Scheme, an income support of Rs 6000 per annum, in 3 equal installments, is provided to all eligible farmer families directly into their bank accounts through Direct Benefit Transfer (DBT) mode.
In Odisha, an amount of Rs 59,69,61,66,000 has been released to 39,36,731 since inception of the scheme (as on February 3, 2022), Tomar said.
As per the statement of the Union Minister, highest Rs 451.43 crore has been released to 2,90,717 farmers of Mayurbhanj district while lowest Rs 59.74 crore distributed among 37,045 farmers of Jharsuguda district under the Scheme.
Similarly, Rs 222.29 crore has been released to 1,50,806 farmers of Angul, Rs 325.28 crore given to 2,10,528 farmers of Bolangir, Rs 367.09 crore to 2,42,834 farmers in Balasore, Rs 234.74 crore to 1,55,239 farmers of Bargarh, Rs 223.24 crore to 1,52,289 farmers of Bhadrak and Rs 91.12 crore to 58,449 farmers of Boudh district.
The Centre has also released a fund to the tune of Rs 290.27 crore to the eligible farmers of Cuttack, Rs 67.98 crore for Deogarh district, Rs 173.11 crore for Dhenkanal, Rs 91.15 crore for Gajapati, Rs 177.14 crore for Jagatsinghpur, Rs 221.79 crore for Jajpur, Rs230.87 crore for Kalahandi, Rs 140.45 crore for Kandhamal, Rs 219.40 crore for Kendrapara and Rs 337.12 crore for Keonjhar district.
Moreover, Khurda district farmers have received Rs 133.90 crore while Rs 158.75 crore released to Koraput district farmers, Rs 90.11 crore transferred to Malkangiri farmers, Rs 347.69 crore for Ganjam district, Rs 183.01 crore for Nabarangpur, Rs 136.26 crore to Nayagarh, Rs 135.26 crore to Nuapada district farmers.
Besides, Rs 242.33 crore has been released to the farmers of Puri district whereas Rayagada district farmers have received Rs 116.01 crore.
The eligible farmers of Sambalpur, Sonepur and Sundergarh districts have received Rs 124.94 crore, Rs 103.47 crore and Rs 273.56 crore, respectively under the PM-KISAN scheme of the Union Government.