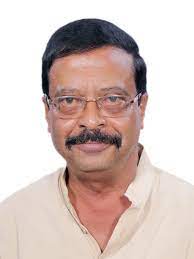 New Delhi: Saffron Veteran and Lok Sabha Member Suresh Pujari has written a letter to Prime Minister Narendra Modi seeking his personal intervention and support in reviving the Doordarshan Kendra in Sambalpur.
Mr.Pujari said the Doordarshan Kendra in Sambalpur, which was commissioned back in 1978 as the eighth Doordarshan (DD) Kendra of the country, has started losing its past glory and surviving as a structure only.
"The DDK Sambalpur has played a pivotal role in promoting and enriching the rich culture, heritage, tradition, music, dance and Sambalpuri folk and heritage of our area including that the tribal of the region, including program for the farmers," Mr.Pujari said in his letter.

Mr.Pujari also said that the program generating facility (PGF) studio has almost become defunct as there is no program staff out of 15 sanctioned strength.
The sorrowful state of affairs can be well understood from the fact that the only cameraman available against two sanctioned strength was withdrawn and transferred by the Prasar Bharti, thereby putting the last nail in the coffin, he further stated.
The MP urged the PM to ensure that the vacant posts including that of two cameramen in the production unit be filled up at the earliest.
The MP also demanded upgradation of the Centre to a full-fledged DDK with ultramodern studio, DD-6 (RLSS) channel for 24×7 service and a fully digitalized news van (broadcast van).
Mr.Pujari has written this letter to Modi after receiving a memorandum from Western Odisha Artist Association led by Padmashree Haladhar Nag, Padmashree Jeetendra Haripal and Padmashree Mitrabhanu Gontia.