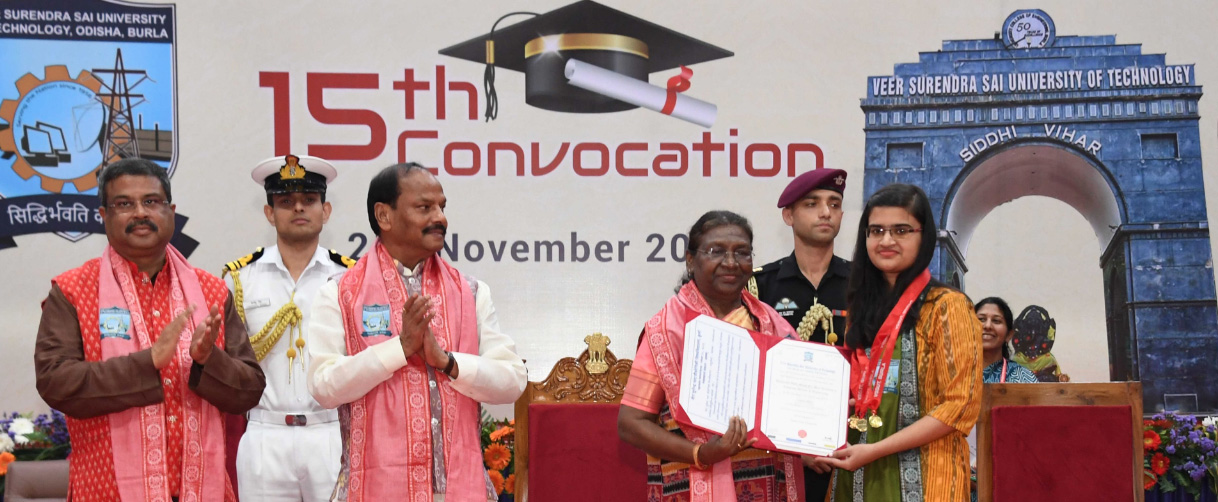 Sambalpur: President Droupadi Murmu today advised students of Veer Surendra Sai University of Technology (VSSUT), Burla to work for the progress of the Nation.
Addressing at the 15th annual convocation of VSSUT, the President advised students to be mindful of the fact that their success will not solely be measured by their personal achievements. It will also be measured by the positive impact they will make on the lives of others, she said.
She urged them to make every effort for excellence, not just for personal gain, but also for the progress of the Nation. The students were also urged to strive to become agents of positive change, advocates of diversity and champions of integrity.
 "We should not forget our traditional values while embracing technical advancements," Shrimati Murmu said.
The President further said that the development of the country depends on the contribution of youth. Students graduating from the university will be responsible for constructing roads, buildings, dams and factories using the latest technologies. As engineers, they will be the architects of progress, she said.
As innovators, they will be bridges between imagination and reality. In the rapidly progressing world, the skill and knowledge that they have acquired in this institution are going to be the bedrock upon which their future as well as the future of the nation will be built, she added.
The First Citizen of India was happy to note that a special Satellite Launch Vehicle developed by the students of the VSSUT has been successful on an experimental basis. It received appreciation from ISRO and a MoU has been signed between the university and ISRO for further research.
She also noted that an Innovation and Incubation Center has been established in the campus of this university. The President appreciated students and faculty members of the University for their creative work.
"We have set a target to make India a developed country before 2047. Technology can accelerate the pace of development. Therefore, technocrats and engineers will play an important role in making India a developed nation," Shrimati Murmu said.
Stating that the National Education Policy – 2020 focuses on mother tongue, tradition and culture, she emphasised that the development of the country should be inclusive and dedicated to the entire humanity.
"We must always remember the values inherent in our culture to make development humanity friendly," she told the students.