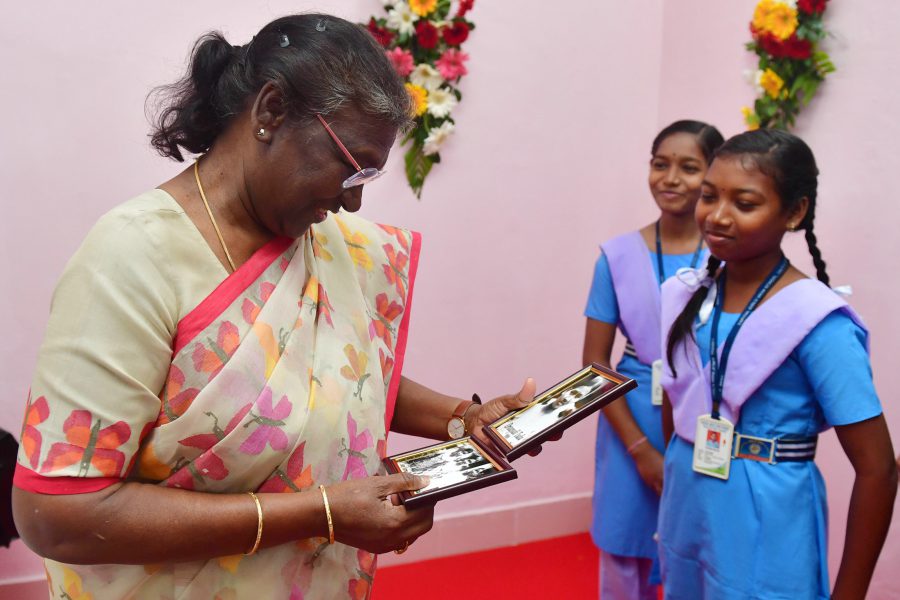 Bhubaneswar: While President of India Droupadi Murmu favored access to education by all children, she said that it has been observed that many students face difficulty in understanding technical education in English.
That is why under the National Education Policy-2020, the government has taken steps to provide technical education in the regional languages also, the President observed.
She said that there is no doubt that mother tongue helps intellectual development in students.
The President expressed confidence that learning in mother tongue would develop creative thinking and analytical skills among students and it would also provide equal opportunities to urban and rural students. 
She launched 20 engineering books translated into Odia at Jaydev Bhawan here on Friday, coinciding with National Education Day.
These books for the first year – nine for degree and 11 for diploma students – have been translated by Technical Education Department in collaboration with the Institute of Odia Studies and Research (IOSR). The All India Council for Technical Education (AICTE) signed the pact with IOSR on October 18, 2021, to introduce engineering education in Odia in alignment with National Education Policy 2020 to ensure improved understanding and teaching-learning outcomes.
As many as 64 experts were picked by the project monitoring unit, comprising senior faculty of Odisha's popular universities- IIT, IIIT and NIT-R, to translate the books into Odia in February.
"This is a four-year project and 11 books of Ist year diploma courses and nine books of B.Tech Ist year courses have so far been translated. We have already started work on second-year books under which 88 books – 46 of diploma and 42 of degree – will be translated. We are in the process of selecting translators. For the third year course too, 88 books will be translated," Member Secretary of IOSR Subrat Kumar Prusty said.
Shrimati Murmu who is on her maiden two-day visit to Odisha after assuming the top constitutional post in the country, also launched a glossary of technical terms in Odia language and presented the books to 10 students.
"We have readied a glossary of technical terms in Odia so that students can easily know the meaning," Mr.Prusty added.
Governor Ganeshi Lal, Chief Minister Naveen Patnaik and Union Education Minister Dharmendra Pradhan attended the event during which the President also launched the e-Kumbh (Knowledge Unleashed in Multiple Bharatiya Language) portal.
Earlier in the day, Shrimati Murmu received a rousing welcome at Tapoban High School in Khandagiri. She then visited her alma mater Capital Girls' High School in the city.
She had joined the school on July 21, 1970, in Class VIII — had attended its diamond jubilee celebration in November 2019, as Chief Guest.
On the first day of her visit, the President visited Shree Jagannath Temple in Puri and attended a Civic Reception in her honour at Raj Bhavan later in the evening.