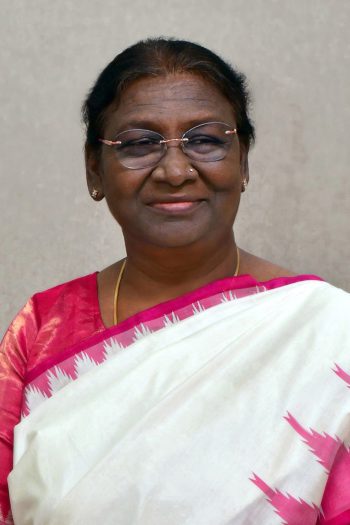 Bhubaneswar: Giving a life-time memorable experience to the people of Odisha, the President of India Droupadi Murmu has left for New Delhi after completing her two-day visit to Odisha.
During her first visit to the State as President of India, Shrimati Murmu visited Shree Jagannath temple by walking nearly two kilometer like an ordinary person. Rejecting brand new utensils, the first lady partook Mahaprasad on a banana tree leaf (treated as a holy leaf) seated in the floors.  
She did not forget to pay respect to a number of eminent personalities of the soil. She greeted the people during her every visit. The Odisha Government gave her a grand civic reception yesterday evening, which was attended by eminent people across the state.
The President this morning visited Tapoban High School and shared about her struggling childhood with the school kids.
"I did not have any role models when I was a child. My grandma (father's mother) was my role model. She was known for her courage and her service to mankind. She was lending help to people in their need. Whoever used to suffer from any health complication, or labour pain, she was quick to reach the site and offered her best service. At that time, we had no knowledge about anything, the nation and other countries," Murmu said while interacting with the students.
The President also informed that she used to visit this school many times earlier to get her relatives admission there.
"The situation was not much better during those days like the present time. I belong to a remote village. The school at Uparabeda village where I attended my primary education had no concrete roof. We used cow dung to keep it clean. We were studying under extreme circumstances. However, the situation has changed now and you all are very lucky that you are getting education amid a better environment," she said.
After this, she paid a visit to her alma mater Government Girls High School Unit-II and Kuntala Kumari Sabat Adivasi Girls Hostel Unit-II where she had stayed during her School time. The President interacted with students, teachers, alumni and inmates of the hostel.
The President also was seen enjoying Santali tribal dance performed by her school students. She also met her school friends at Unit 2 Girls' High School here.
Today, she has become the President of India. She is a symbol of courage. Her journey of struggles and hardships has inspired us like anything. Though she is very down-to-earth, we are in a dilemma whether we will address her in the usual way or not," said a friend of Murmu.
Before leaving for Delhi, she launched various projects of the Union Ministry of Education from Jayadev Bhawan, Bhubaneswar.
These include engineering books of All India Council for Technical Education (AICTE) in Odia language; glossary of the technical terms in Odia language, developed by Commission for Scientific and Technical Terminology (CSTT); and e-KUMBH (Knowledge Unleashed in Multiple Bharatiya Languages) portal.
Speaking on the occasion, the President said that she was happy to launch these important initiatives of the Union Ministry of Education. These are commendable steps in the direction of making education accessible to all. It has been observed that many students face difficulty in understanding technical education in English. That is why under the National Education Policy-2020, the government has taken steps to provide technical education in the regional languages.
The President said that there is no doubt that mother tongue helps intellectual development in students. She expressed confidence that learning in mother tongue would develop creative thinking and analytical skills among students and it would also provide equal opportunities to urban and rural students.
She noted that earlier technical education in regional languages used to face hurdles due to non-availability of textbooks in vernacular languages. She appreciated AICTE for its efforts in removing this hurdle.