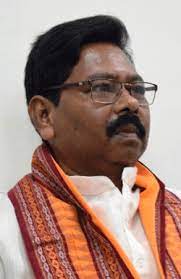 New Delhi: As many as 1,002 families including 913 tribal families of Odisha are going to be affected due to construction of Polavaram Irrigation Project by Andhra Pradesh.
This was informed by Union Minister of State (MoS) for Tribal Affairs, Bishweshwar Tudu in Parliament on 2 February.
While replying to a written question of BJD MP Sasmit Patra, Minister Mr.Tudu said the project envisages construction of protective embankments in the territory of Odisha and Chhattisgarh to avoid submergence.
"However, if Protective embankments are not constructed in the territory of Odisha and Chhattisgarh, then the numbers of Project Affected Families (PAFs) in Odisha State are 1,002 (Out of which 913 PAFs belong to tribal community) and Project Affected Families in Chhattisgarh State are 2,335 (out of which 1294 PAFs belong to tribal community)," he said.
As per information provided by the Polavaram Project Authority (PPA), the total Project Displaced Families in Andhra Pradesh is 1,06,006; out of which 56,504 (43,689- East Godavari District and 12,815- West Godavari District) comprising of 1,64,752 persons, as per 2011 Census, belong to the tribal community.
The PDF figure is tentative and found though the Socio Economic Survey (SES) was completed in Contour of Chinturu & Yetapaka Units. The total number of displaced families due to the project will be finalized only after approval of draft R&R schemes, Mr.Tudu informed.
On hearing of the case in Gram Sabha, the Union Minister said, the Water Resources Department (WRD) of Andhra Pradesh has informed that as per Andhra Pradesh Panchayat Extension to Scheduled Areas (APESA) Act 1996, the Gram Sabhas in all the affected areas of Polavaram Irrigation Project have been conducted in the three Districts of combined State of Andhra Pradesh (before bifurcation) i.e., East Godavari – 8 Gram Panchayats, West Godavari – 8 GPs and Khamma – 60 GPs.
Quoting the Andhra Pradesh Government's information, Mr.Tudu said the Tribal PDFs who lost their lands were provided equivalent land to land or upto Ac. 2.50 cts whichever is low. The Tribal PDFs were also rehabilitated in the scheduled areas to retain their ethnic, linguistic and cultural identity.
The Minister further informed that under the 2nd schedule of the Right to Fair Compensation and Transparency in Land Acquisition, Rehabilitation and Resettlement (RFCTLARR) Act, 2013 an amount of Rs. 6.86 lakhs are being paid to the affected tribal families. In addition to the above, unemployed youth are given training in skill development programs to eke out their livelihood, he added.
Notably, the Odisha Government has been opposing the project for its design which could pose danger for Odisha. The Polavaram Project will have immense adverse impacts on people living in the tribal district of Malkangiri in Odisha.
The submergence of the large extent of forest area would be of irreversible consequences. That's why the State is also not conducting public hearings or Gram Sabha in the concerned area. A case on this issue is also pending in the Supreme Court, sources say.