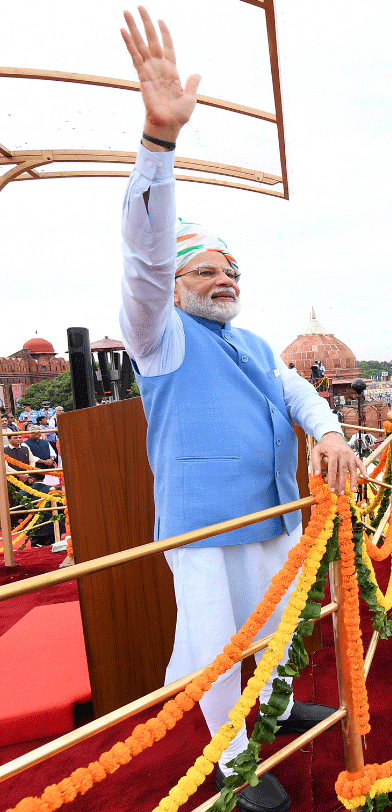 New Delhi: Prime Minister Narendra Modi Monday called for a fight against corruption and said that dynasticism and corruption are the twin evils that India must fight to overcome.
Addressing the nation from the Red Fort on 75th Independence Day, Mr.Modi said that nepotism is hollowing out India's institutions and is leading to corruption in many cases.
Ahead of his speech at the Red Fort, Prime Minister Mr.Modi unfurled the National Flag. The unfurling was followed by a shower of flower petals from helicopters.
Beginning his speech at the Red Fort, Mr.Modi said that it is a historic day for India as it takes a new path. "During 'Azadi Mahotsav', we remembered our many national heroes.
PM said that on 14 August, Indian remembered the horrors of partition.
And today, is the day to remember all citizens of the country who contributed towards taking our country forward in these last 75 years," PM said.
Mr.Modi further laid down five resolves for India. "In coming years, we've to focus on 'Panchpran'- First, to move forward with bigger resolves & resolve of developed India; Second, erase all traces of servitude; Third, be proud of our legacy; Fourth, strength of unity & Fifth, duties of citizens which includes the PM and CMs," PM pointed out

Mr.Modi highlighted on the need to respect women. He further added that the countrymen must work towards a 'Viksit Bharat' (developed India), and that we must remove any vestiges of colonialism, and retain our roots, while ensuring unity in diversity. PM Mr.Modi also said that Indians must carry out their duties to ensure that India is a developed nation in the next 25 years.
The Prime Minister further added that India is an aspirational society where changes are being powered by a collective spirit. He said that the people of India want positive changes and also want to contribute towards it.
As India celebrates 75 years of Independence, the countrymen have all been united with a feeling of patriotism. From changing profile pictures on social media to hoisting flags and taking out marches, the entire nation has been a part of the festivities.
He said as the government had launched a host of programs, including the 'Har Ghar Tiranga' campaign as part of the Azadi ka Amrit Mahotsav to mark 75 years of India's Independence, people are celebrating in a big way.
This Independence Day seems special to many as it is coming at a time when the nation is collectively coming out of the shackles of Covid-19 Pandemic, pointed out PM.