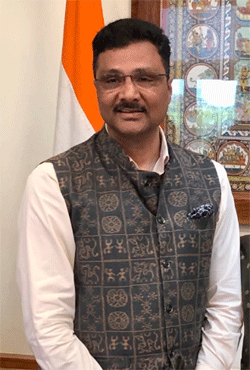 Bhubaneswar: Ace Mandarin, Arabinda Kumar Padhee has appealed all the Government employees to wear hand-woven clothing on at least one day a week for promotion of Odishan rich handloom heritage.
Principal Secretary Handlooms, Textiles & Handicrafts, Dr.Padhee, who is known for his passion to wear hand woven clothing, has written to all the District Collectors in this regard.
Dr.Padhee has said that "Our culture is our brand.Odisha's handlooms have always been the hallmark of showcasing the rich cultural and vibrant artistic heritage of the State."
He said that "The handloom products of Odisha have received national and international acclaim for highly artistic design, craftsmanship and durability. To establish their uniqueness, Nine different handloom products have already received GI Tags.
Making a heartfelt appeal, Dr.Padhee has requested the Government Employees working in the Districts to 'Voluntarily' wear hand-woven fabrics at least one day a week.
He has also said that one may decided the day of the week, depending on local factors and holding cultural considerations, if any. Those in uniform or official dress code may please be excluded from this endeavour, he clarified.
Dr.Padhee said that " I am happy to note that few of you have already taken the leadership in this regard. In the Departments of Agriculture and Farmers' Empowerment and handlooms, Textiles & Handicrafts, officials and staff have already started wearing hand-woven products in most of the week days. This is indeed heartening!
Dr.Padhe has said that the purpose of the appeal is to sustain Odisha's dexterous weavers and preserve their pristine art, besides establishing a conducive market environment.
He has appealed all Government employees to be patrons and ambassadors of our rich handloom heritage.