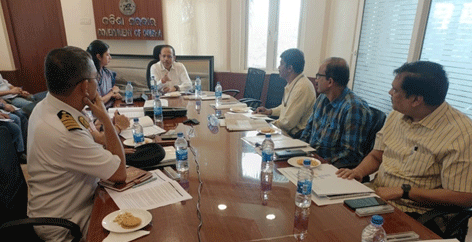 Bhubaneswar: The first meeting of Odisha Maritime Board was held under the chairmanship of Chief Secretary Pradeep Kumar Jena here on Tuesday.
The Board was established last year for the functioning, regulation, and management of minor ports in the State.
During the meeting, Chief Secretary Shri Jena has advised concerned officials to fill the posts of senior officers in the Board immediately.
He emphasized on expediting administrative work by appointing competent officers in various services on deputation or direct recruitment.
The Board should be made functional with its own resources and work for development of ports, to bring investment, and promotion of maritime industries, Shri Jena said.
The Chief Secretary advised the officials to invite entries from the public for the design of the logo and tagline of the Board.

It was decided in the meeting to reward the person, whose logo and design will be selected.
Commerce and Transport Principal Secretary Usha Padhee highlighted the purpose of forming the Maritime Board in the meeting.
Odisha is the fifth State in the country to set up the Board on the recommendation of the Central Government to regulate inter-State trade, import and export business through Odisha's beaches and small ports.
Transportation of goods by waterways can significantly reduce interstate traffic congestion by road, she said.
Among others, Paradip Port Authority Chairman P.L. Haranadh, Navy Captain Dibesh Kumar Swain, officers from various departments, Odisha State Maritime Board officials attended the meeting.