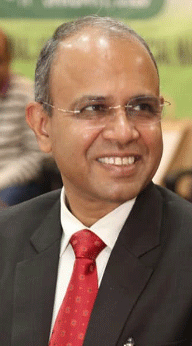 New Delhi: To deal with the sharp price hike in wheat, the Food Corporation of India (FCI) led by CMD Ashok Kumar Meena has come up with Open Market Sales Scheme (Domestic) or OMSS (D) for bulk sale of wheat in the Open Market.
To control the rising prices without hurting any stakeholder, the Scheme has been designed with two pronged strategies—to ward off hoarding of purchased wheat from open sale by large traders and to send an appropriate signal to market players that the wheat purchased under open sale must be made available to domestic consumers immediately.
Under the scheme, the FCI is conducting a weekly auction for lifting/delivery of wheat from 620 locations in 23 States across the country to a large number of small and medium traders and flour millers with an easy registration process. The Corporation has decided to continue the process of e-auction till a new crop arrives.
As on March 5, 2023, the FCI has already conducted four e-auctions and sold 2.34 million tons (MT) to more than 1,100 registered bidders. About 1.8 MT of wheat has already reached the market.
The 5th round of e-auction was conducted on March 9 and about 11.88 lakh tons of wheat were offered for sale from 657 depots across 23 regions of FCI.
Against the average reserve price of Rs 2,140.29 per quintal, the weighted average selling price was Rs 2,197.91 per quintal. The last round of auction will be conducted today.
It is expected that retail prices of wheat all over the country should now remain within Rs 23-Rs 25/kg with a suitable profit margin.
Notably, the Centre had announced the sale of 50 lakh tons of wheat in the open market to control prices. Of this, 45 lakh tons have been earmarked for bulk consumers, including flour millers.
Apart from OMSS(D), the PMGKAY has also helped the government in warding off a steep rise in wheat prices due to short supply, which is a good policy lesson for other countries of the world.
Much before the World Bank advised nations, in June last year, the Centre had already taken a pragmatic policy decision in the form of Pradhan Mantri Garib Kalyan Ann Yojna (PMGKAY), under which additional 5 kg free food grains distributed to about 813 million covered under the National Food Security Act (NFSA).
About 112 MT of additional food grains, allocated at an estimated cost of Rs 3.9 trillion from April 2020 to December 2022, were delivered through the supply network of the FCI and allied agencies. This made almost every needy family completely secure in terms of food grains and kept basic food inflation under control.
Though the retail inflation had come down during October and November 2022, it bounced back in December 2022 and showed an upward trend in January this year. One major source was the steep rise in prices of wheat and wheat flour/products.
Wheat prices generally rise from December to March because, unlike rice, it is harvested and sold by farmers only during the rabi marketing season within a window of about three and a half months from mid-March to June.
However, the police decision taken by the Government of India, particularly FCI has helped a lot to control the wheat price.