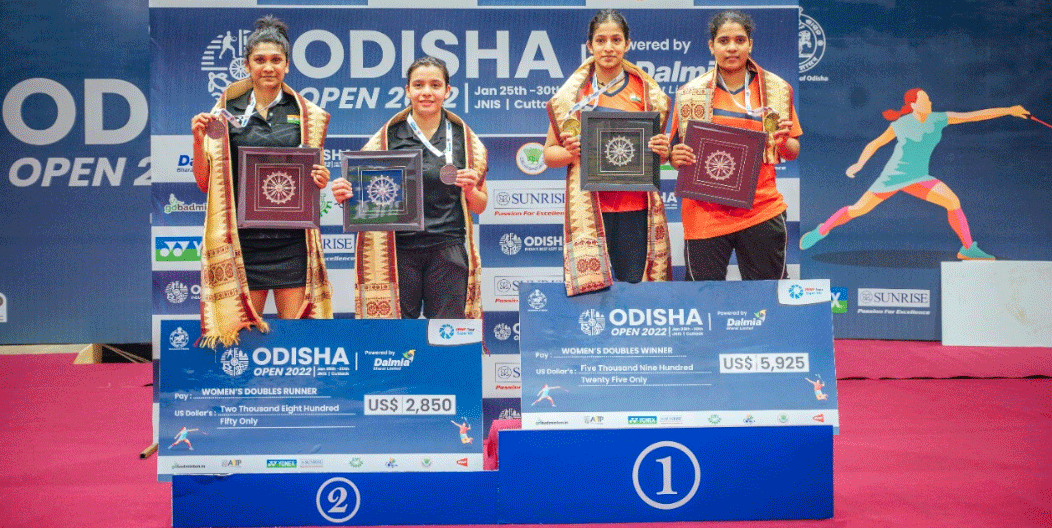 Cuttack: Odisha's first BWF event, the Odisha Open 2022 concluded here at JN Indoor Stadium on Sunday.
The event that commenced on January 25, has over the days, witnessed some nail biting matches between young badminton players.
Unnati Hooda (India), aged 14, won her maiden super 100 title by defeating Smit Toshniwal (India). Kiran George (India) took home the men's single title with a thrilling three-game win over Priyanshu Rajawat (India).
Sri Lankan pair – Sachin Dias/Thilini Hendahewa won the mixed doubles title, defeating the Indian pair MR Arjun/Treesa Jolly. Gayathri G/Treesa J (India) cruised to the Women's Double Title with a clinical win over Sanyogita Ghorpade and Shruti M. Malaysian pair Nur Mohd/Lim KW won the men's doubles title, defeating Indian pair PS Ravi and SP Uday.
Commissioner-cum-Secretary, Sports and Youth Services Department, R. Vineel Krishna, said, "This is the first time Odisha hosted an international badminton tournament and it is a matter of great pride as badminton is amongst priority sports for us. I extend my sincere thanks to the Badminton Association of India, Badminton World Federation, and Odisha State Badminton Association for bringing this tournament to Odisha."
"Over the last few days we have seen some brilliant performances from the young shuttlers and it shows that the future of badminton is in good hands. I congratulate each and every winner and wish the very best to all the players of this tournament for their journey ahead. Odisha has big plans for the development of the sport of badminton and Odisha Open 2022 has encouraged and inspired us. It will be an annual event and next year we hope to host it at a larger scale," said the Secretary.
It's heartening to see the way Government of Odisha stepped in to stage the tournament that too at a time when Covid challenges have been at its peak.
The tournament witnessed great badminton action and the infrastructure here is par excellence. More so, a 14 year old Indian shuttler winning the gold among others is not only great news but also a great advertisement for the growing footprint of the sport in the Country.
BAI is grateful to the government of Odisha and Sponsor, Dalmia Bharat, for the successful and grand hosting of the Odisha Open. I am confident in the coming time more badminton events can be staged here," said Ajay K Singhania, General Secretary, BAI
Puneet Dalmia, Managing Director, Dalmia Bharat Limited, said, "As we celebrate the grand finale of the Odisha Open 2022 and look back at the finer moments of this event, the tournament's journey has been nothing short of spectacular.
Evidently, the event has set new benchmarks not just in the arena of Badminton, but within the entire sports fraternity across India. Regionally, the tournament has woven itself into Odisha's cultural ethos and we now look forward to taking it to greater heights in its next edition, he said.
Dalmia further said Odisha Open 2022 has fortified India's placement in Badminton's champions league globally, but more importantly, it has set an example for our country's youth that their talent and earnest capabilities will lead to the progressive growth of our nation.
On behalf of Odisha Government, Sports Secretary, R Vineel Krishna, felicitated officials who have contributed immensely, for the successful completion of Odisha Open 2022.
The dignitaries who were felicitated during the closing ceremony were Ajay Singhania – General Manager, BAI, Rajinder Sharma – Observer, BAI, Ganesh Jirkuntwar – Sr. Executive Director, Dalmia Bharat, Eric Ligtvoet – Referee, BWF, Girish Natu – Deputy Referee, BWF,Sharad Verma – Deputy Referee (Local), BAI, Selvan Supramanian – Senior Tournament Series Manager, BWF and Rajiv Mehta – Competition Manager.