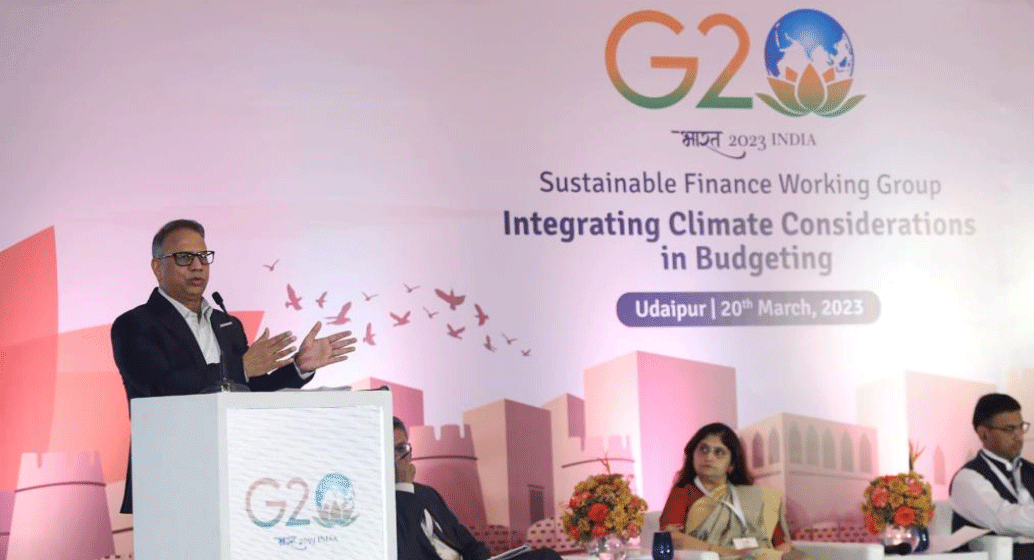 Udaipur: While Odisha, a premier State, which has adopted the Climate Budget tagging, a tool devised for monitoring and tracking of climate-related expenditures in the Budget System, it has advised for a uniform framework for Climate Budget Tagging across the Country.
Vishal Dev, Principal Secretary Department of Finance of the Government of Odisha has made a well documented presentation on Climate Budgeting in G20 India Sustainable Finance working Group Meet on Integrating Climate Considerations in Budgeting at Udaipur in Rajasthan on 20 March. Ministry of Economic Affairs (MEA) has organized the Meet.
Shri Dev said that there is a need for institutionalization of the climate coding exercise and incentivizing States to take up climate budgeting through the Finance Commission route.
Principal Secretary Finance, Shri Dev said that this is designed to address the challenges of identifying, classifying, weighting and marking climate-relevant expenditures in a government budget system, enabling the estimation, monitoring and tracking of those expenditures.
Odisha has been a victim of various natural calamities caused by climate change. Almost every year, Odisha endures at least a tropical cyclone. Besides, flood and draught are other frequent natural calamities.
Since 2014, Odisha has faced eight tropical cyclones and the estimated economic loss from 1999 to 2022 is about 46% of GSDP. So, the State Government has accords highest priority to climate change and adopted the climate budgeting, a senior Finance Department official said.
In 2008, the National Action Plan for Climate Change (NAPCC) was launched by the Government of India to mitigate and adapt to the adverse impact of climate change.
Odisha is the first State to develop State Action Plans on Climate Change (SAPCC) in 2010, consistent with the strategy outlined in the NAPCC. The first phase of SAPCC was implemented from 2010 to 2015 while the second phase of SAPCC was for the period 2018-23, he said.
The State Action Plan on Climate Change (SAPCC) outlines 102 priority strategies across 11 Departments viz. Agriculture, Revenue and Disaster Management, Energy, Fisheries and Animal Resources, Forest, Environment & Climate Change, Health, Industries, Steel & Mines, Commerce & Transport, Housing & Urban Development and Water Resources.
To that end, Odisha initiated the Climate Budget Coding Analysis called Climate Change Innovation Program (CCIP) in 2018 with support from the Department for International Development (DFID).
Then, the Department of Finance has adopted the Climate Change Financing Framework (CCFF) called State Action Plan on Financial Integration (SAPFIN) methodology for the climate coding analysis.
Though detailed climate budget coding analysis was done in 2018, the Government started publishing the Climate Budget document from 2019. Every year, the Government is now publishing the Climate Budget document along with the annual budget.
Sub-component of each scheme/program have been identified and analyzed for the climate coding analysis, stated the official.
The State has also conducted a Climate Change Impact Appraisal, a detailed climate coding exercise to identify the degree of climate linkage of various sectors. Using Climate Change Relevance Share (CCRS) and Climate Change Sensitivity Share (CCSS), different sectors have been classified into high risk and low risk categories.
This study provided an immediate reflection in budget stock-taking through a cross-sectoral insight on relative vulnerability and contribution to climate change-related risk with greater relevance and sensitivity, to climate proof its development expenditure as a trigger for directing the future course of policy and financial decisions.
The State Government, through the exercise, has identified which sectors and schemes have to be focused on, towards improving climate resilience and mitigation outcomes.
In fact Odisha and Gujarat has adopted Climate Budgeting and now Kerala is also following the suit, said sources.