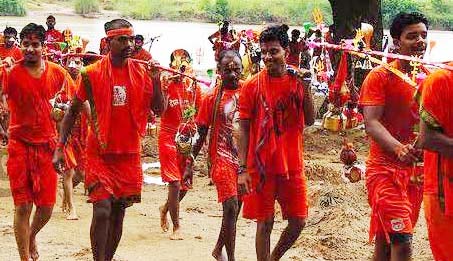 Bhubaneswar: Like last year, the State Government has banned the Bol Bom Jatra this year too in view of prevailing Covid-19 pandemic situation.
Issuing an order on Tuesday, Special Relief Commissioner (SRC) PK Jena said the government has barred 'Bol Bam' devotees (Kaudias) from offering prayers at Shivaite shrines across the state in the month of Shravan (July/August).
In the holy Odia month of Shravan, people collect water from some religious places and walk barefoot for several miles to offer the water to Lord Shiva at the popular shrines on every Monday of this month.
The devotees undertaking the yatra are generally referred to as 'Bol Bom devotees' or 'Kaudias' and they start their journey on Saturady/Sunday/Monday by collecting water from some holy water body and walk till Monday morning to pour the water on Shiva Linga.
"In the interest of the health general public, the State Government do hearby order that the above religious activities and congregations remain prohibited and the Kaudias/Bol Bom devotees are not allowed to carry water from any religious places or any other sources and also not allowed to walk on any public road and pour water in any temples/ Lord Shiva temples during the Odia month of Shravan (July/August), 2021," the SRC order read.
The district administration and police have been asked to ensure that the directive is implemented properly and there is no deviation.