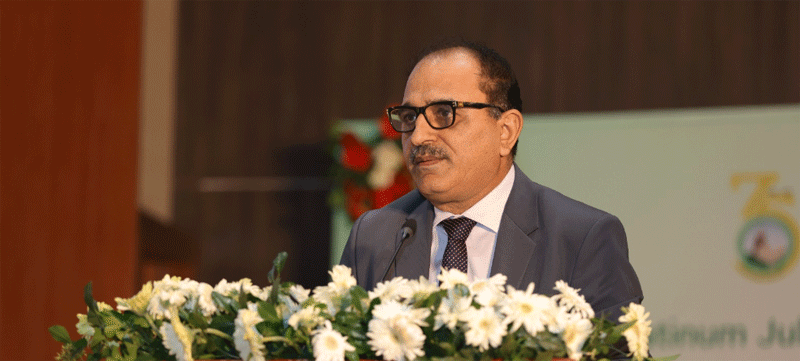 Principal Secretary Co-operation Sanjeev Chadha said that Odisha Government is formulating a new Co-operative Policy to boost the Co-operation Sector. All the Stakeholders are being consulted before the Policy takes a final shape.
Shri Chadha said Odisha Government has been extending significant support to the Odisha State Cooperative Bank (OSCB), which has accounted for crop loan dispensation in excess of Rs. 16,000 crore with achievement of 58 Percent of the total crop loan disbursed in the state last year.
Principal Secretary Shri Chadha was speaking in the Platinum Jubilee Celebration of OSCB here on 2 April at lok Seva Bhawan.
While OSCB is extending all out support for the farmers of the State, he urged all the Government Departments to maintain account with OSCB, said Shri Chadha.
Shri Chadha said that with support from State Government in shape of Interest Subvention, crop loan upto Rs.1 lakh is made available to farmers including tenant farmers, share croppers, oral lessees at an applicable rate of 0 Percent Rate of Interest, whereas crop loan from Rs. 1Lakh to Rs. 3 Lakh is being made available at 2 Percent Rate Interest.
Shri Chadha briefed about OSCB, which was initially registered as the Orissa Provincial Cooperative Bank Ltd., Cuttack on 2 April 1948 and renamed as the Odisha State Cooperative Bank Ltd. on 22 January 1957.
It is a Scheduled Bank and has been playing a pivotal role in transforming the agrarian economy of the State by catering to the credit requirement of the farm families.
It is the Apex Bank of the Short Term Cooperative Credit Structure (STCCS) in Odisha comprising 2710 PACS at the grassroots level and 17 Central Cooperative Banks (CCBs) at the district level. The Bank has a working capital base of Rs.21,442 crore and earning profit since inception.
OSCB along with its 17 affiliated DCCBs has continued to maintain the predominant position in crop loan financing in the State over the years with a share of 58 Percent of the State level aggregate crop loan dispensation and providing banking services through its network of Cooperative Credit Institutions.
At the end of March, 2022, the STCCS has issued 41.04 lakh numbers of KCCs to the farmers of which 34,63,903 KCC holders have been provided with agriculture loans of Rs.16,193.18 crore during the year 2021-22.
OSCB has facilitated organization and credit linkage of 14,982 Self Help Groups and 39,657 Joint Liability Groups to meet the credit requirements of the Share Croppers, Tenant Farmers and Oral Lessees of the State.
The Bank continues its focus on provision of innovative, technology-driven interventions for delivery of banking / credit services to the rural populace through online banking operations of CCBs and computerised functioning of PACS on CBs.
Shri Chadha said that OSCB, Odisha's own Bank is committed to the financial inclusion of all the farmers of the State.