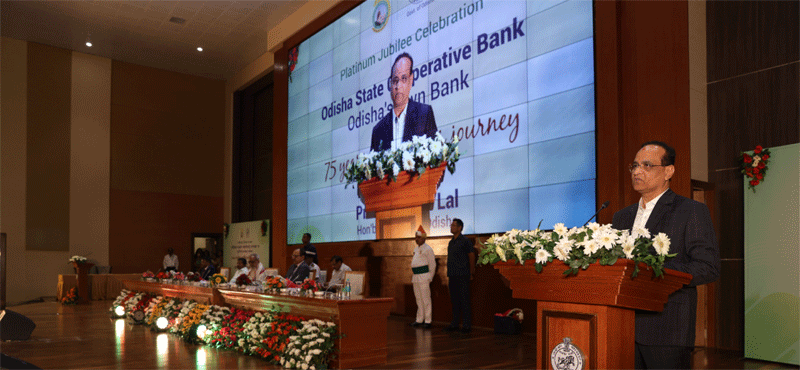 T Prasad Rao Dora, President Odisha State Co-operative Bank has said that there will be organized efforts for making this premier bank of Odisha, a household name in the State.
President Shri Dora said OSCB, Odisha's own bank is committed to the Financial Inclusion of all the farmers of the state.
OSCB is on expansion mode with focus on 5T adoption and provision of innovative technology driven interventions for delivery of banking and credit services to the rural populace through online banking operations of CCBs and computerized functioing of PACS on CB.
Shri Dora, the newly elected President of the OSCB was addressing the Platinum Jubilee Celebration Ceremony at Lok Seva Bhawan here on 2 April.
Team OSCB led by Shri Dora expressed happiness on completion of the Bank on 75th year of operation on its Foundation Day on 2 April to commemorate its long journey over the last 75 years and the success it has accomplished.
OSCB President Shri Dora stressed on strengthening the Central Cooperative Banks and Primary Agricultural Cooperative Societies (PACS) in his welcome address to the gatherings.
He informed the gathering that OSCB is the Apex Bank of the Short Term Cooperative Credit Structure (STCCS) in Odisha comprising 2710 PACS at the grassroots level and 17 Central Cooperative Banks (CCBs) at the district level.
The Bank has a working capital base of Rs.21,442 crore and earning profit since inception, said Shri Dora.
OSCB along with its 17 affiliated DCCBs has continued to maintain the predominant position in crop loan financing in the State over the years with a share of 58 Percent of the State level aggregate crop loan dispensation and providing banking services through its network of Cooperative Credit Institutions.
While harping on the key achievements of the Bank over the last 75 years new President Shri Dora said the Premier Bank will adopt 5T Charter of the Odisha Government, which is extending all out all out support for the State Co-op Bank.
Shri Dora said that OSCB has been instrumental in providing financial support to over 42 lakh farmers across the State.