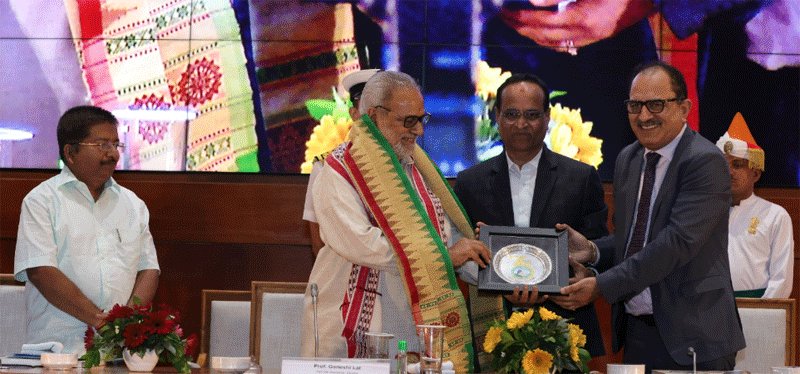 Bhubaneswar: Governor Ganeshi Lal has said that Odisha can enlighten on values of Cooperation to others as the State has set Bench Mark in this sector.
Prof.Lal inaugurated the Platinum Jubilee Celebrations of Odisha State Cooperative Bank here on 2 April.
Prof. Lal applauded the achievements made by OSCB and the entire STCCS in Odisha in serving the farm families and people of Odisha with updated and computerized banking services.
He expressed his wishes and advised that OSCB should continue to live upto expectation as before.
Governor congratulated the Team OSCB on its completion of its 75th year of operation on its Foundation Day on 02.04.2023 to commemorate its long journey over the last 75 years and the success it has accomplished.
He unveiled Coffee Table Book on this occasion in presence of Atanu Sabya Sabysachi Nayak, Minister Cooperation, Principal Secretary Cooperation Sanjeev Chadha and President T Prasad Rao Dora. RCS Odisha & OSCB Managing Director Uddhab Charan Majhi was also present.
The Short Term Cooperative Credit Structure (STCCS) comprising OSCB at Apex, 17 District Central Cooperative Banks at middle and 2710 PACS including LAMPS & FSS at the grass root level.
Minister, Cooperation Atanu Sabyasachi Nayak expressed it as a proud moment for all the people of Odisha. He wished for more successful achievements in the coming days.
Minister Co-operation Shri Nayak emphasized on adoption of 5T Framework in Banking Secto and said that OSCB is providing about 58 Percent of Odisha Agricultural Loans.
He informed that Department of Co-operation is going to set up 1300 new PACS for easy banking services.
The President, OSCB T Prasad Rao Dora made the welcome address to the gatherings and highlighted on the key achievements of the Bank over the last 75 years., Highlighting the achievement of yesteryears the Principal Secretary, Finance and Principal Secretary, Cooperation advised the Bank to continue providing service with more dedication. A documentary film prepared to mark the occasion was displayed.
A Coffee Table Book was unveiled on the occasion. The session was furthered with conduct of Three Seminars.
S N Tripathy, DG IIPA, Sandeep Kumar Nayak, DG, National Productivity Council and B. Subramanyam, MD, NAFSCOB were the Panelists. Prof. Birendra Kumar Bhoi, Professor in Economic, Utkal University Audience and Moderators also took part in the event. Principal Secretary, Cooperation made the closing address and vote of thanks extended by MD, OSCB.