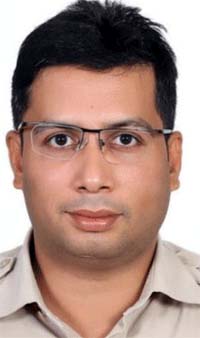 Bhubaneswar: 2017 Batch IPS Sidhartha Kataria is new SP Nayagarh.The SDPO Talcher, Mr.Kataria will take over the charge of SP Nayagarh from 2015 Batch IPS Pratyush Diwakar.
In a major reshuffle in the Indian Police Service (IPS) cadre, the State Government on 23 December transferred Nayagarh Superintendent of Police (SP) and also changed SPs in at least 12 districts.
The transfer of Mr.Diwakar came at a time when the kidnap and murder of a five-year-old girl from Nayagarh district triggered massive political outrage in the State.
2015 batch IPS officer Mr.Diwakar has been appointed as the AIG Headquarters.
According to an official notification issued by Department of Home as many as 21 IPS officers and a Senior OPS officer have been transferred.
2002 Batch IPS Narasingha Bhol has been posted as IGP of Sambalpur, while 2007 Batch IPS Sarthak Sarangi has been posted as DIG Northern Central Range, Angul.
2003 Batch IPS Shafeen Ahmed K, DIG Southern Western Range has been posted as DIG Technical.
2007 Batch IPS Pandit Rajesh Uttamrao has been posted as DIG South Western Range (SWR) Koraput.
2007 Batch IPS Awinash Kumar has been posted as DIG State Armed Police(SAP).
2007 Batch IPS Niti Shekhar has been appointed as Additional Transport Commissioner Enforcement.
2008 Batch IPS Satyajit Nayak has been posted as SP Computer after return from Central Deputation.
2009 Batch IPS Akhileswar Singh is new Commandant Special Operation Group (SOG).
2009 Batch IPS Charan Si ngh Meena has been appointed as SP Bhadrakh.
2010 Batch IPS K Shiva Subramani is new SP Dhenkanal.
2011 Batch IPS B Gangadhar is new SP Sambalpur.
2012 Batch IPS Madkar Sandip Sampad is new SP Kendrapara.
2013 Batch IPS Rahul PR is new SP Jajpur.
2014 Batch IPS Vivekananda Sharma is new SP Rayagada.
2015 Batch IPS Shravana Vivek is new SP Kalahandi.
2015 Batch IPS Kusalkar Nitin Dagadu is new SP Balangir.
2016 Batch IPS Varun Guntupalli is new SP Koraput.
Senior OPS Officer Bikash Ch Das is new SP Jharsuguda.