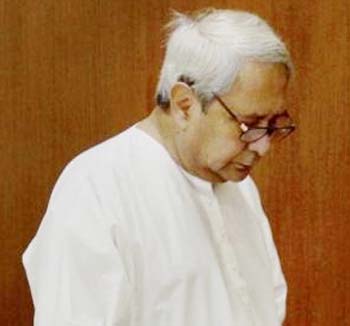 Bhubaneswar:Chief Minister Naveen Patnaik today slammed the Opposition parties in the Assembly for politicizing very sensitive crime cases.
Replying to the debate on demand discussion of Home and General Administration Departments, the Chief Minister said, "I am pained to see politicisation of very sensitive cases for narrow vested interests. This is an injustice to the victims of the case, to the committed police persons who work night and day and also to the people of Odisha."
"Even a lady officer on duty was physically assaulted. This cannot be tolerated in a civilised society," he said while hinting towards alleged misbehaviour by the Leader of Opposition to a lady police officer in Sambalpur.   
"With all humility and my experience in this house, I can say those who work for people return to this house and those who do politics over crime and stall development for political consideration have not been able to return to this august house," Shri Patnaik said.
People are watching the conduct of the opposition, and how desperate they are to stall development works, he said.
The Chief Minister said his Government will continue to march ahead transforming our Odisha into "New Odisha" "Empowered Odisha".
With the blessings of Lord Jagannath and the cooperation of the people of Odisha the overall law and order situation in the State has remained largely peaceful and under control. Communal harmony has been maintained. There was no significant law and order incident on the students, services, industrial, labour and agrarian front, he pointed out.
The overall Maoist scenario in the State has shown remarkable improvement, he added.
This year, he said, more than 5,000 candidates have been appointed in Odisha Police and the Prisons Organisation. Further, clearance has been given to fill up more than 3,300 posts in police and almost a thousand in prisons and fire services.
Under 5T charter, Odisha Police has launched "Monitoring of Atrocity, National Commission Cases and Assistance to Victims" (MANAV) portal in August 2023 to expedite the investigation cases under SC and ST Prevention of Atrocity Act and for timely delivery of compensation to the victims, the CM said.
"We have zero tolerance towards crime and particularly crime against women. We have ensured free, fair, and impartial investigation," Shri Patnaik told the House.
Speaking about affairs of the General Administration & Public Grievances Department, he said, the Mo Sarkar initiative has instilled confidence of the citizens in the public services.
Recruitment examinations by the three recruiting Commissions are being conducted regularly. This year they have recommended more than 12,000 candidates for appointment, he stated.
On achievement of state Vigilance, the Chief Minister said, "It is very encouraging/ heartening to see that in almost all major parameters like registration and disposal of corruption cases and conviction and dismissal of convicted public servants, Odisha is among the top performing States in the country."